Roland DGA Introduces New IU-1000F High-Volume UV-LED Flatbed Printer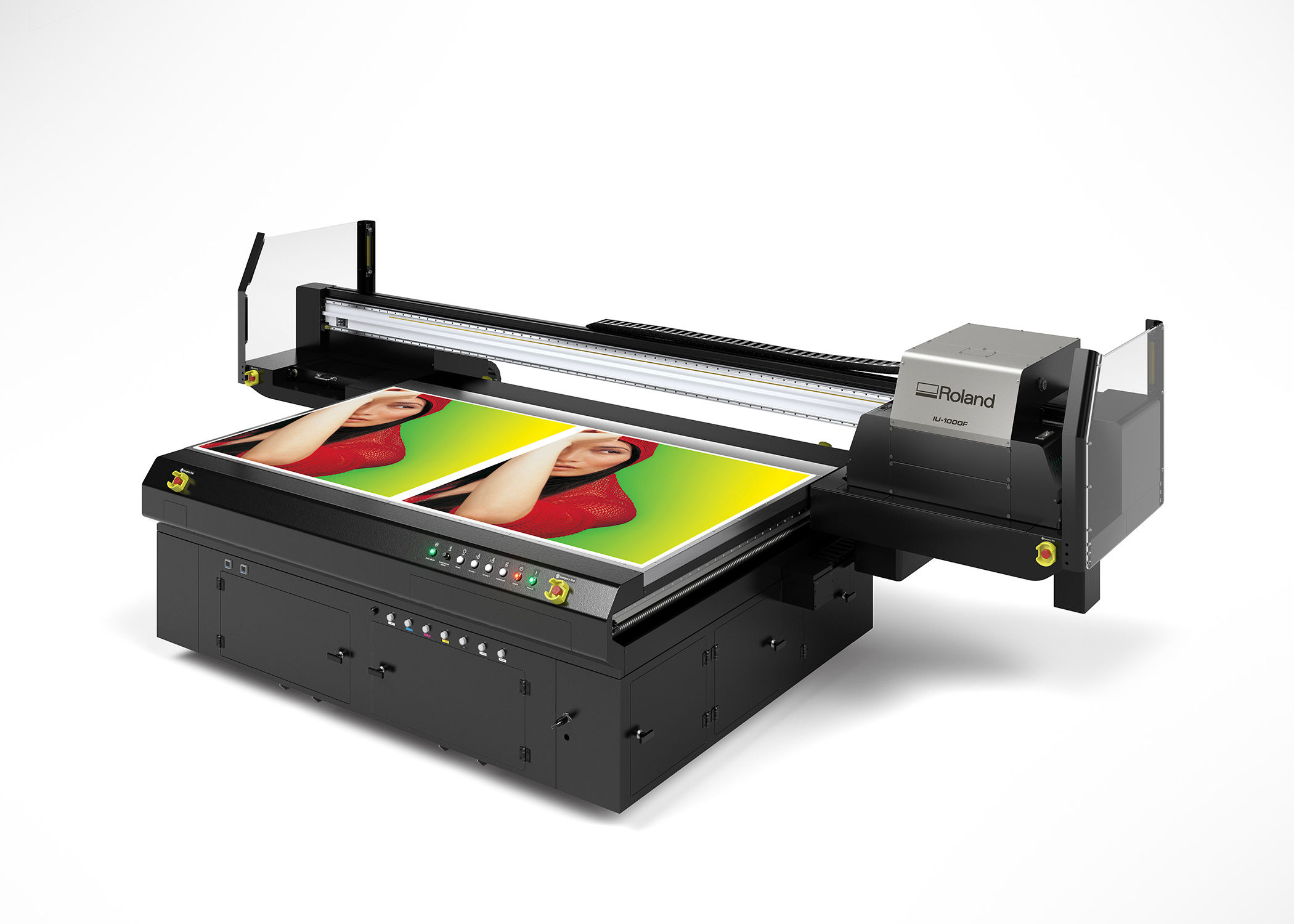 Irvine, Calif., Oct. 22, 2019 – Roland DGA Corporation, a leading provider of large-format inkjet printers, printer/cutters, and other advanced digital devices, has announced the launch of its new IU-1000F, a state-of-the-art UV-LED flatbed printer uniquely engineered for high-volume production. Designed for fast, efficient printing on a wide range of substrates, including 4' x 8' rigid boards weighing up to 99 pounds, the IU-1000F offers sign and display professionals the outstanding productivity, versatility and image quality needed to capitalize on new opportunities and take their businesses to the next level.
With its 12 print heads in a staggered three-row arrangement and a four-inch carriage clearance, the IU-1000F is ideal for printing vibrant, detailed graphics directly onto PETG, PVC board, foam board, wood, corrugated board, aluminum plate, and more. The IU-1000F prints edge-to-edge on thin or thick boards and offers multiple speed and performance options, including a maximum speed of 1,248.6 square feet per hour in 4-color draft mode that allows users to meet the most demanding turn-around times. Printing speed for a typical 4' x 8' (1,220 x 2,440 mm) size rigid board averages about 35 boards per hour in "Draft" mode (1,248.6 sqft/hr.) or about 15 boards per hour in "Standard" print mode (516 sqft/hr.). Even in "Quality" mode (174 sqft/hr.) – which produces near-photographic quality results – the IU-1000F averages about 10 boards per hour.
A total of 1,280 nozzles per print head, along with banding and mottling prevention features, allow for high-resolution image results of up to 635 x 1,800 dpi. Exclusively developed, high-density GREENGUARD Gold certified UV inks in CMYK, Gloss and White cure instantly and deliver stunning graphic results. A Primer ink option allows for even greater adhesion, making it easy to prep and print on challenging materials like acrylic, glass and ceramic. Users can incorporate the Gloss and White specialty inks to enhance their prints with a host of eye-catching textural and dimensional effects.
The sturdy construction and unique capabilities of Roland's IU-1000F make it perfect for customizing media boards with vivid, colorful graphics to create high volumes of signs and displays for trade shows, retail stores, hotels, museums, and other industries with large-format applications. In addition, the IU-1000F is ideal for direct-printing onto sheets of aluminum, metal and wood to create signs, décor, displays, and print-to-cut prototypes. The IU-1000F can also direct-print onto sheets of leather and fabric for high-volume banner, display and décor solutions, or to canvas for creating a variety of fine art products. Users can even print graphics onto tabletops, plywood, MDF and other boards to create brilliantly decorated furniture. With its heavy-duty flatbed chassis and vacuum bed, the IU-1000F handles heavy metal and wooden materials with incredible ease.
"With the life cycles and requirements for outdoor and indoor advertising, event decorations and store displays being shorter and more diverse than ever, there's a definite need for the new IU-1000F," said Jay Roberts, Roland DGA Product Manager, UV Printers. "This cutting-edge, high-productivity UV flatbed enables shops to respond effectively to increasing output demands and shorter turn-around times. It offers break-through print speed, exceptional image quality, and outstanding material compatibility, allowing for high-volume, high-impact graphics without the need for mounting and drying processes."
Roland's IU-1000F boasts many features and functions that maximize efficiency and ensure optimum overall performance. Variable dot technology allows for the simultaneous firing of droplets in three sizes to create high-definition images, smooth gradations and solid color output. The IU-1000F printer's state-of-the-art UV-LED lamps save energy and lengthen lamp life. For easy media handling and print stability, the IU-1000F is equipped with a variable zone vacuum that can be applied to four different sections of the flatbed to maximize air cushion in specific areas. Additionally, the IU-1000F is equipped with specially designed media alignment pins that ensure consistent media placement of multiple boards and double-sided panels.
Other noteworthy IU-1000F features include a media ionizer to ensure ink-firing accuracy on materials like corrugated board that generated a lot of static, a Roland Print Control Center for easy management of the machine's movements, speed, voltage and head cleaning; one-touch, automated daily print head cleaning; and the ability to print on one board or multiple boards at the same time. Users will also appreciate the included premium RIP software package, which includes intuitive tiling, scaling, cropping, and other essential tools for maximum functionality, versatility and ease of use. Every IU-1000F comes with a Two-Year Trouble-Free Warranty and Roland's legendary service and support.
To learn more about the new Roland IU-1000F large-format UV-LED flatbed printer, visit https://www.rolanddga.com/iu-1000f. For more information on Roland DGA or the complete Roland product line, visit https://www.rolanddga.com.
About Roland DGA Corporation
Roland DGA Corporation serves North and South America as the marketing, sales, distribution and service arm for Roland DG Corporation. Founded in 1981 and listed on the Tokyo Stock Exchange, Roland DG of Hamamatsu, Japan is a worldwide leader in wide-format inkjet printers for the sign, apparel, textile, personalization and vehicle graphics markets; engravers for awards, giftware and ADA signage; photo impact printers for direct part marking; and CNC milling machines for the dental CAD/CAM, rapid prototyping, part manufacturing and medical industries. For more information, visit https://www.rolanddga.com.
About Roland DG Corporation
Roland DG Corporation is the world's leading provider of digital printing solutions. The company's inkjet printers, printer/cutters and cutting machines are widely used to create a broad range of promotional items including banners, signs, vehicle graphics, stickers and labels, and to provide customization services for apparel and personal items like smartphone cases. Recently, Roland DG has embarked on a promising new retail frontier by capitalizing on individuals' increasing desire to create their own, uniquely designed and decorated items. The company's COTO business division has developed proprietary design and print management software which enables customers to design their own gifts, apparel and treasured mementos, and to enjoy an unforgettable creative experience. For more information, visit https://www.rolanddg.com/en.