Roland DG's TrueVIS VG Printer/Cutters Awarded Top Honors from Buyers Lab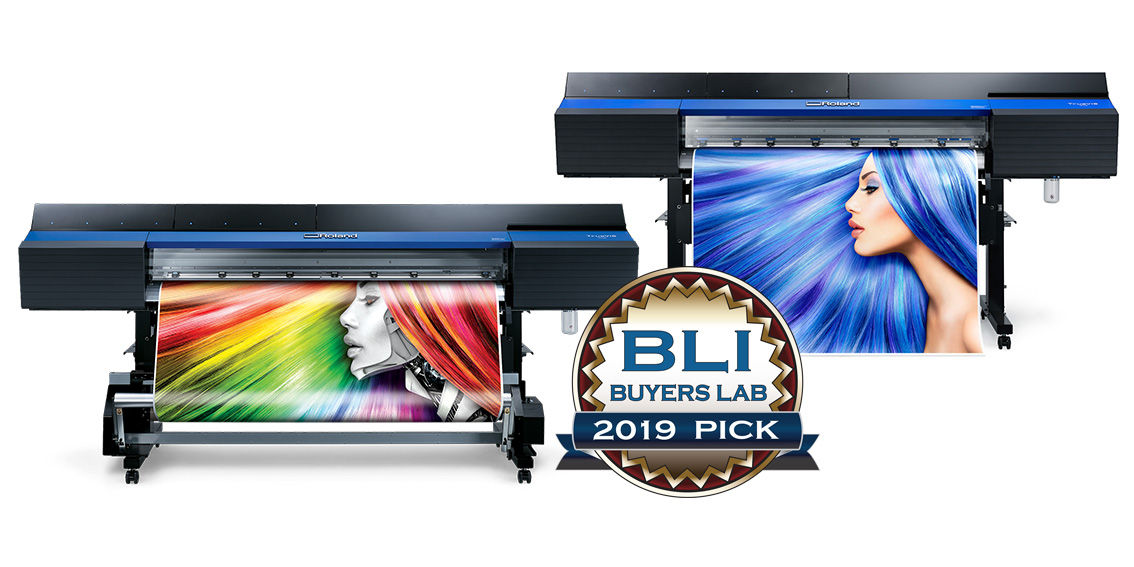 Irvine, Calif., Oct. 18, 2018 – In a comprehensive laboratory evaluation, Roland DG's TrueVIS™ VG series wide-format printer/cutters won two prestigious Buyers Lab awards, including Outstanding Enhanced CMYK Eco Solvent/Latex 54″/64″ Printer (7-Color) and Outstanding High Production CMYK Eco-Solvent/Latex 54"/64" Printer (Dual CMYK). Keypoint Intelligence's Buyers Lab (BLI), the world's leading independent provider of testing and analysis for the document imaging industry, selected only the TrueVIS VG-640 and VG-540, from all contenders globally, for recognition in its two categories.

To determine results, BLI analysts evaluated a variety of inkjets from contenders globally in a number of key performance categories, including Image Quality, Usability and Speed. In earning the Outstanding Enhanced CMYK Eco-Solvent/Latex 54"/64" Printer (7-Color) award, Roland DG's TrueVIS VG series (VG-640, VG-540) demonstrated "very high quality output, even when printing at the most productive speed settings."
VG series printer/cutters were also cited for producing "the widest gamut of bright, saturated colors, as well as smooth skin tones with very good highlight details and contrast." In addition, the tests showed that the TrueVIS VG yielded "extremely accurate dimensional stability and color consistency."

Roland's TrueVIS VG series printer/cutters earned their second BLI Award in the "Outstanding High Production CMYK Eco-Solvent/Latex 54"/64" Printer (Dual CMYK)" category. The BLI analysts reported, "At the high-speed print quality setting, this 64-inch unit excelled at producing bright halftone images with very good details and saturation, as well as neutral grays and smooth skin tones, while the highest quality print setting was significantly faster than that of the next fastest device. Pair that with the accurate PANTONE® color-matching capabilities, as well as above-average print speeds, and this large-format device will undoubtedly satisfy the strictest quality and color demands of any print shop."

When evaluating "usability," BLI noted that the VersaWorks® Dual RIP software bundled with both the VG-640 and VG-540 provided intuitive operation for diverse tasks such as job tiling and nesting, job queue and ink consumption monitoring, and the ability to readily modify process and PANTONE colors. Also impressing the BLI analysts were other advanced VG series features, including the standard take-up reel for unattended printing, an ink pouch replacement system that reduces overall waste, and remote printer monitoring via iOS and Android devices.

In a presentation ceremony at SGIA Expo in Las Vegas that took place this morning in Roland DGA's booth, David Sweetnam, Director of Research and Lab Services for Keypoint Intelligence, congratulated Roland DG and cited how the VG stood out among the competition. "This printer/cutter is all about fast turnaround without sacrificing quality, as many of our test images exhibited neutral grays, fine details, and smooth skin tones even at the high-speed print setting. We were also impressed by the VG with 7-color plus White ink, which produced the largest color gamut we have tested to date and delivered excellent color matching in our tests with an average of only 3.45 Delta E00. Both the VG-640 and VG-540 earned very good marks across the board for image quality, speed, and the functionality and user-friendliness of their included Roland VersaWorks Dual RIP software."

Accepting the awards for Roland DG was Kohei Tanabe, President, Digital Printing Business Division. "We are honored that BLI has recognized the print quality and productivity of our VG printer/cutters which are engineered to deliver versatility, precision and power," said Tanabe. "The 'VIS' in TrueVIS is Latin for 'Vision,' which is very appropriate when you consider how these advanced machines allow users to bring their visions to life, giving them a true competitive business advantage."

"It's a great honor to gain the 'seal of approval' from a highly respected test lab like BLI," noted Roland DGA President Andrew Oransky. "The TrueVIS VG-640 and VG-540 printer/cutters clearly outperformed other printers in their class. The quality and performance of our advanced inkjets, along with our world-class service and support, allows Roland to consistently exceed the expectations of our customers."

To learn more about Roland DG's award-winning TrueVIS series large-format printer/cutters, or the complete Roland DG product line, please visit www.rolanddga.com. For more information about Keypoint Intelligence and Buyers Lab, visit https://www.keypointintelligence.com/about-us.

About Roland DGA

Roland DGA Corporation serves North and South America as the marketing, sales, distribution and service arm for Roland DG Corporation. Founded in 1981 and listed on the Tokyo Stock Exchange, Roland DG of Hamamatsu, Japan is a worldwide leader in wide-format inkjet printers for the sign, apparel, textile, personalization and vehicle graphics markets; engravers for awards, giftware and ADA signage; photo impact printers for direct part marking; and 3D printers and CNC milling machines for the dental CAD/CAM, rapid prototyping, part manufacturing and medical industries. To learn more about Roland DGA, visit www.rolanddga.com.

About Roland DG

Roland DG Corporation is a leading manufacturer of digital devices designed to help professionals as well as craft makers and hobbyists transform their imagination into reality. Products include the TrueVIS, SOLJET, VersaCAMM, VersaUV and Texart series large-format inkjet printers and the CAMM-1 and STIKA vinyl cutters for the sign, vehicle graphics, personalization, apparel and textile decoration industries. In 2017, Roland DG formed DGSHAPE Corporation to develop and market the company's 3D products, including DWX mills and DWP 3D printer for the dental industry, MPX photo impact printers for the medical device, industrial labeling and personalization industries and MDX and monoFab series of desktop 3D printers and milling machines for rapid prototyping, manufacturing and hobby industries. The company uses its proprietary cell production technology to manufacture products that are distributed in over 200 countries and regions worldwide. To learn more about Roland DG, visit www.rolanddg.com.