Roland DGA Introduces New VersaUV LEC2-300 UV Printer/Cutter
Completely Redesigned 30-inch UV-LED Inkjet Offers Outstanding Versatility and On-Demand Output at Less than Half the Price of its Predecessor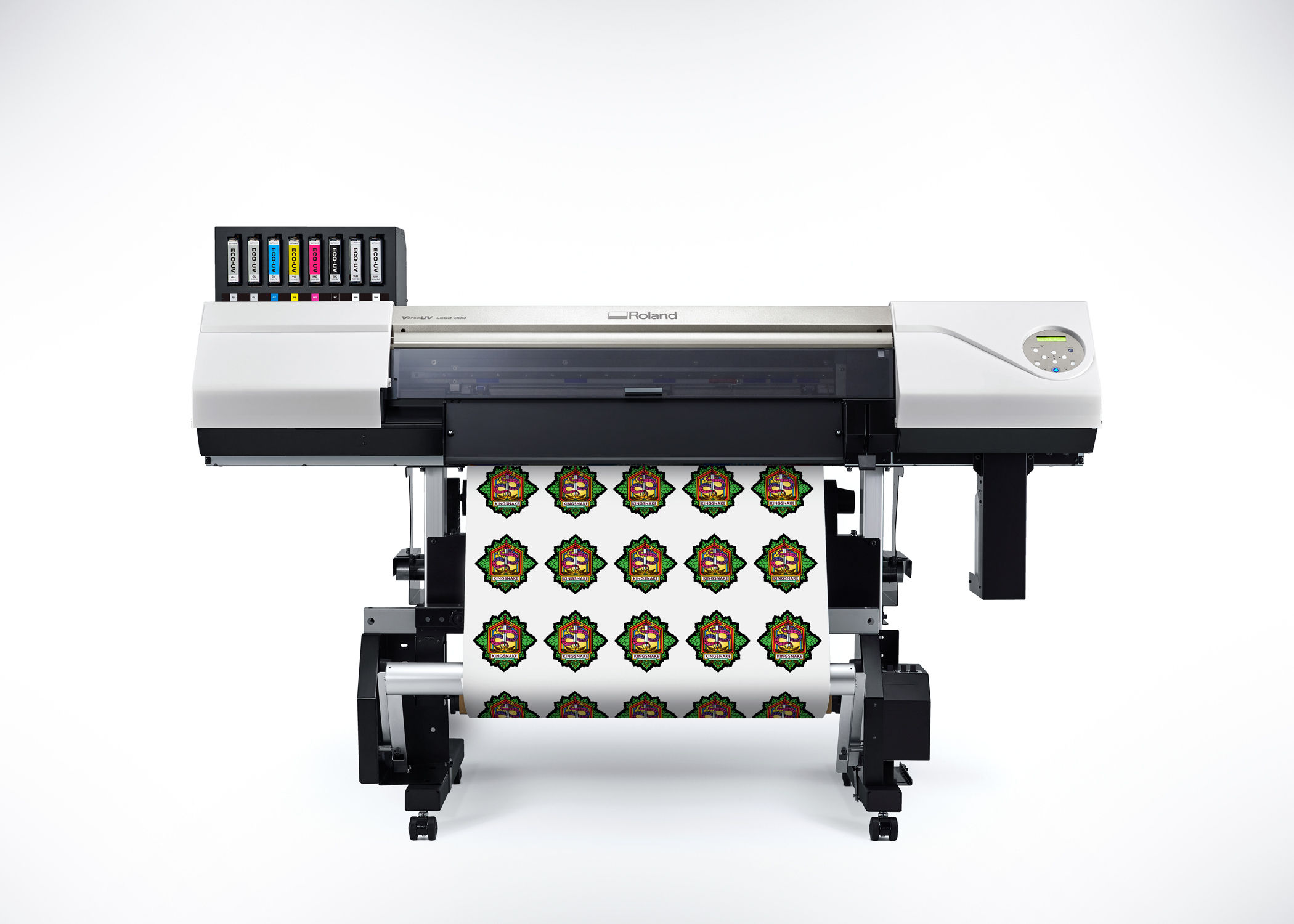 Irvine, Calif., October 17, 2019 – Roland DGA Corporation, a leading provider of wide-format inkjet printers, printer/cutters and other advanced digital imaging devices, has announced the launch of its redesigned VersaUV® LEC2-300 UV printer/cutter. With an all-new design that delivers improvements, the streamlined 30-inch LEC2 includes the popular features of Roland's original LEC-300, plus improvements for increased versatility, more vibrant color, and greater image detail – all for less than half the price.
The new LEC2-300 has been engineered to offer users an even higher level of overall performance. In addition to doing the jobs of multiple devices by printing, contour cutting, creasing and folding in one seamless, automated workflow, the LEC2 boasts a newly designed print head, new LED lamps, and host of updated features for even better print quality. Its small footprint also makes the LEC2-300 perfect for shops with limited space. Much more than just a roll-to-roll printer/cutter, the LEC2 is an all-in-one solution built to handle a range of applications, including labels and stickers, signs and displays, package prototyping, short-run package production, and specialty graphics.
The LEC2-300 is designed to take full advantage of Roland's ECO-UV inks, which adhere to the surface of a wide range of media, such as adhesive sheets for stickers and labels, PET or PVC-based substrates, canvas, tarpaulin, textiles, leather, and more. This combination produces vivid, eye-catching CMYK graphics, while also allowing users to incorporate Clear and White specialty inks for matte or glossy finishes, simulated embossing, and other custom dimensional and textural effects.
With its enhanced contour-cutting functionality, the LEC2-300 cuts out printed graphics of virtually any shape with unmatched ease and accuracy. This automated process eliminates the need for plate making and die punching to trim adhesive decals, labels and stickers. A Perf-Cut function for printing ready to peel and apply labels, combined with a new Multiple Print function and a newly designed take-up system, allow for high-volume, extremely efficient unattended printing.
"Our new VersaUV LEC2-300 packs tremendous value, functionality and versatility into a compact, stylish, design," said Jay Roberts, Roland DGA Product Manager, UV Printers. "It gives users the power to quickly produce creative designs using many formats and methods to meet the increasingly diverse and individualized demands of their customers."
The LEC2-300's new print head and LED lamps work together to deliver exceptionally rich and vivid prints. The new print head has been optimized for precision ink delivery and control, while the more powerful LED lamps allow for faster ink curing than ever before. These combined improvements ensure stunning print quality down to the finest level – from small text to elaborately textured patterns and gradations. White ink density has been increased by up to 40 percent compared to the previous model, providing much higher opacity and coverage.
Roland's VersaUV LEC2-300 comes with feature-filled VersaWorks® 6 software – the company's most powerful and user-friendly RIP to date. VersaWorks 6 boasts the latest Harlequin® dual core engine with PDF 2.0 and native 64-bit processing, a new True Rich Color mode, a new icon-based interface with drag-and-drop functionality, and a host of additional tools that optimize printer functionality and ease of use.
To learn more about Roland's new VersaUV LEC2-300 UV printer/cutter, visit https://www.rolanddga.com/LEC2. For more information on the complete Roland DGA product line, visit https://www.rolanddga.com.
About Roland DGA Corporation
Roland DGA Corporation serves North and South America as the marketing, sales, distribution and service arm for Roland DG Corporation. Founded in 1981 and listed on the Tokyo Stock Exchange, Roland DG of Hamamatsu, Japan is a worldwide leader in wide-format inkjet printers for the sign, apparel, textile, personalization and vehicle graphics markets; engravers for awards, giftware and ADA signage; photo impact printers for direct part marking; and CNC milling machines for the dental CAD/CAM, rapid prototyping, part manufacturing and medical industries. For more information, visit https://www.rolanddga.com.
About Roland DG Corporation
Roland DG Corporation is the world's leading provider of digital printing solutions. The company's inkjet printers, printer/cutters and cutting machines are widely used to create a broad range of promotional items including banners, signs, vehicle graphics, stickers and labels, and to provide customization services for apparel and personal items like smartphone cases. Recently, Roland DG has embarked on a promising new retail frontier by capitalizing on individuals' increasing desire to create their own, uniquely designed and decorated items. The company's COTO business division has developed proprietary design and print management software which enables customers to design their own gifts, apparel and treasured mementos, and to enjoy an unforgettable creative experience. For more information, visit https://www.rolanddg.com/en.