Roland DGA Announces New Product Promotions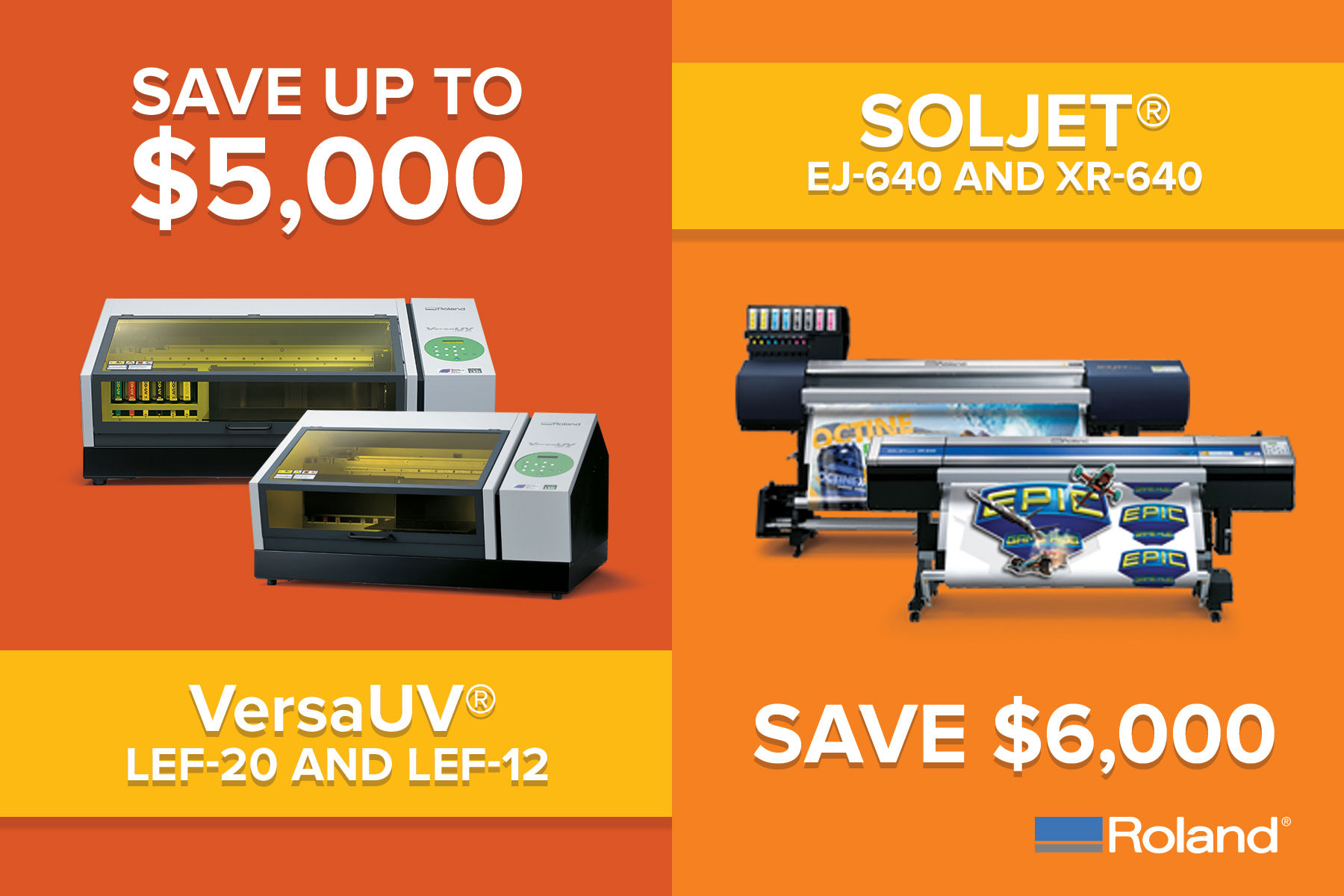 Irvine, Calif., April 15, 2016 – Wide-Format digital printing leader Roland DGA has announced new limited-time promotions on some of the company's most popular SOLJET and VersaUV LEF series printers, offering customers the chance to reap substantial savings if they act by June 30, 2016.
Those in the market for a new Roland SOLJET EJ-640 printer or Pro 4 XR-640 printer/cutter (both normally $29,995) can purchase either model for just $23,995, a $6,000 savings. Roland is also offering savings of up to $5,000 on its VersaUV LEF-12 and LEF-20 benchtop UV flatbed printer models. Customers can buy a new LEF-12 for $14,995 (a $3,000 savings), or a new LEF-20 for $20,995 (a $5,000 savings).

Roland's top-of-the-line SOLJET eco-solvent printers and printer/cutters offer the ultimate combination of productivity, image quality and versatility, making them ideal for a wide range of applications, including banners, signs, labels and decals, posters and backlit displays, vehicle wraps, fine art and photos, and more. Roland VersaUV LEF series UV flatbed printers can print CMYK, White and Clear inks onto virtually any substrate or dimensional object up to 3.94 inches thick to create a vast array of customized products and promotional items. The LEF-12 has a 12" x 11" x 3.94" print area, while the LEF-20 boasts a print area measuring 20" x 13" x 3.94" that allows for greater productivity and accommodating larger objects.

Both of the limited-time offers described above are available through authorized Roland dealers in North and South America, excluding Canada and Brazil, and additional terms and conditions apply. To locate a Roland dealer in your area click here. For more information on Roland's complete product lineup, visit www.rolanddga.com.

About Roland DGA

Roland DGA Corporation serves North and South America as the marketing, sales and distribution arm for Roland DG Corporation. Founded in 1981 and listed on the Tokyo Stock Exchange, Roland DG of Hamamatsu, Japan is a worldwide leader in wide-format inkjet printers for the sign, apparel, textile, packaging and vehicle graphics markets; engravers for awards, personalization and ADA signage; photo impact printers for direct part marking; and 3D printers and CNC milling machines for rapid prototyping, part manufacturing and the medical and dental CAD/CAM industries. Roland DGA is ISO 9001:2008 certified, and Roland DG is ISO 9001:2008 and 14001:2004 certified.