Roland DGA Announces Launch of New VersaUV LEF2-200 UV Flatbed Printer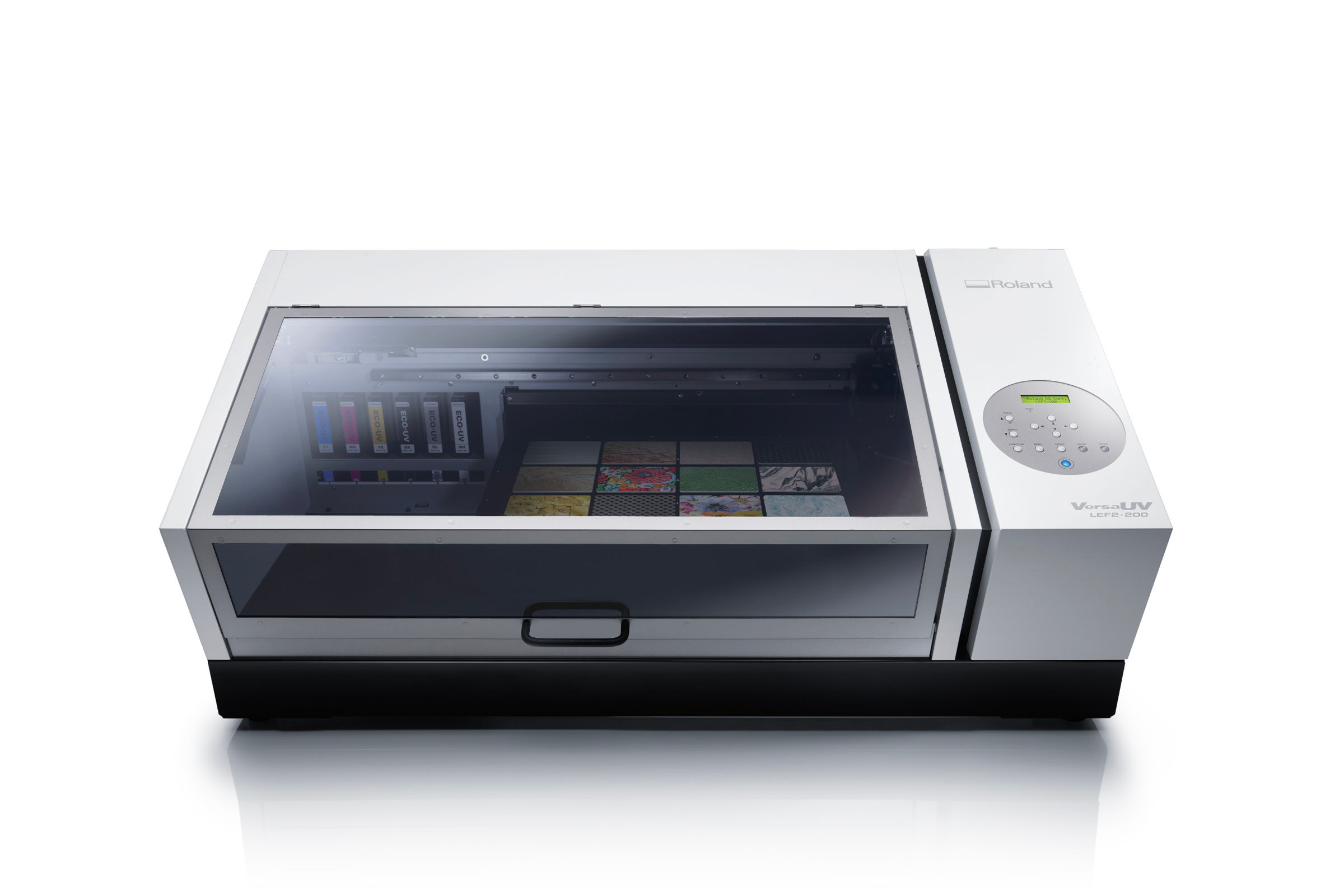 Innovative 20-inch Flatbed Printer Optimizes Efficiency, Productivity, and Ease of Use
Irvine, Calif., March 5, 2019 – Roland DGA Corporation, a leading provider of wide-format inkjet printers. 3D milling machines, rotary engravers, and other advanced digital devices, has announced the launch of the VersaUV® LEF2-200 20" benchtop UV flatbed printer. Building upon the impressive capabilities of Roland's previous VersaUV benchtop flatbeds, the next-generation LEF2-200 incorporates innovative new features that increase ease of use and efficiency.

The LEF2-200 inherits the VersaUV LEF series' renowned ability to print amazing full-color graphics and unique textures, including premium finishes such as simulated embossing, onto a vast array of materials and objects up to 3.94 inches (100 mm) thick. In addition, the LEF2-200 boasts improvements that make decorating everything from smart phone covers and plaques to giftware and personalized products easier than ever. A Start Timer Function completes print head cleaning setup and White ink circulation automatically by your designated start time, while a positioning jig makes it easy to align items on the print table. For greater maintenance efficiency and convenience, the LEF2-200 adopts a new cleaning system that helps maximize printer reliability and reduce ink consumption during maintenance procedures. A Head Refresher Feature removes any ink remaining on the print heads and cleans the print head surface to maintain the health of the printer. The LEF2-200 is also equipped with an airtight cover that prevents dust from settling onto the surface of materials while printing.

Included VersaWorks® 6 software – Roland's most powerful RIP to date – provides a wealth of useful tools. VersaWorks 6 features a new HARLEQUIN dual core engine for faster previewing times and improved handling of PDF and EPS files with drop-shadows and transparencies. This feature-filled software also lets LEF2 users automatically generate a White, Gloss or Primer layer directly in the RIP, making it simple to incorporate stunning textural and dimensional effects.

"With its added features, this cutting-edge flatbed ushers in a new era of UV printing efficiency, productivity and convenience," said Jay Roberts, Roland DGA Product Manager, UV Printers. "The LEF2's unique capabilities, along with our ECO-UV inks that cure instantly and stretch around corners and curves, make customizing or personalizing just about anything a breeze. Plus, enhancing CMYK graphics with premium gloss and matte finishes, White ink, or multiple layers of Clear ink to create simulated 3D embossing, has never been easier."

To learn more about the new VersaUV LEF2-200 flatbed UV printer, visit https://www.rolanddga.com/LEF2-200. For more information on the complete Roland DGA product line, visit https://www.rolanddga.com.

About Roland DGA Corporation

Roland DGA Corporation serves North and South America as the marketing, sales, distribution and service arm for Roland DG Corporation. Founded in 1981 and listed on the Tokyo Stock Exchange, Roland DG of Hamamatsu, Japan is a worldwide leader in wide-format inkjet printers for the sign, apparel, textile, personalization and vehicle graphics markets; engravers for awards, giftware and ADA signage; photo impact printers for direct part marking; and 3D printers and CNC milling machines for the dental CAD/CAM, rapid prototyping, part manufacturing and medical industries. For more information, visit https://www.rolanddga.com.

About Roland DG Corporation

Roland DG Corporation is the world's leading provider of digital printing solutions. The company's inkjet printers, printer/cutters and cutting machines are widely used to create a broad range of promotional items including banners, signs, vehicle graphics, stickers and labels, and to provide customization services for apparel and personal items like smartphone cases. Recently, Roland DG has embarked on a promising new retail frontier by capitalizing on individuals' increasing desire to create their own, uniquely designed and decorated items. The company's COTO business division has developed proprietary design and print management software which enables customers to design their own gifts, apparel and treasured mementos, and to enjoy an unforgettable creative experience. For more information, visit https://www.rolanddg.com/en.