It's true. Roland DG technology has deep roots in the music industry. In fact, our founder, Ikutaro Kakehashi, is a brilliant inventor that changed the face of music forever by developing MIDI technology. And last year, he was honored, along with his colleagues, with a Technical GRAMMY® Award.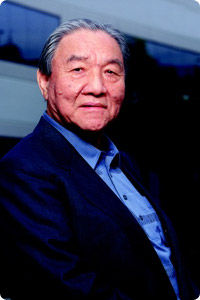 Given for his superior technological contributions in recording, the award recognizes the significance of MIDI technology. It also speaks to the vision of Mr. Kakehashi, his technical genius, and his immense dedication to furthering creative pursuits on all fronts. And it's not the first time Mr. Kakehashi has achieved celebrity status. In 2000, he was honored to join such legends as Stevie Wonder, Brian Wilson and Smokey Robinson in Hollywood's Rock Walk in Los Angeles.
It was 1983 when MIDI technology transformed the music industry. The invention had legs, though, well beyond that world and soon became a launching pad for all things Roland DG – from our early pen plotters and vinyl cutters to today's most advanced digital printers, engravers and milling machines.
Though our technologies address a myriad of applications and business pursuits today, a common thread runs through them all. Every Roland DG product reflects Mr. Kakehashi's passion for excellence and deep appreciation for the creative mind.
Mr. Kakehashi was honored in February 2000 on Hollywood's Rock Walk in Los Angeles.
Reflecting on his award, he said, "It's already been 30 years since the debut of MIDI protocol in 1983, but it seems to me that those years have passed so quickly. Electronic musical instruments have become very popular all over the world through this time, and it is my great pleasure that MIDI played a significant role in their prevalence. I would like to share this acknowledgement with Mr. Tadao Kikumoto, former R&D manager of Roland DG Corporation, the engineering staff, and all who were involved in creating and designing the MIDI concept and system."
Congratulations to Mr. Kakehashi – and to all our talented and dedicated developers who continue to make Roland DG technology rock!