Roland DGA Doubles the Number of Born to Wrap Workshops in 2018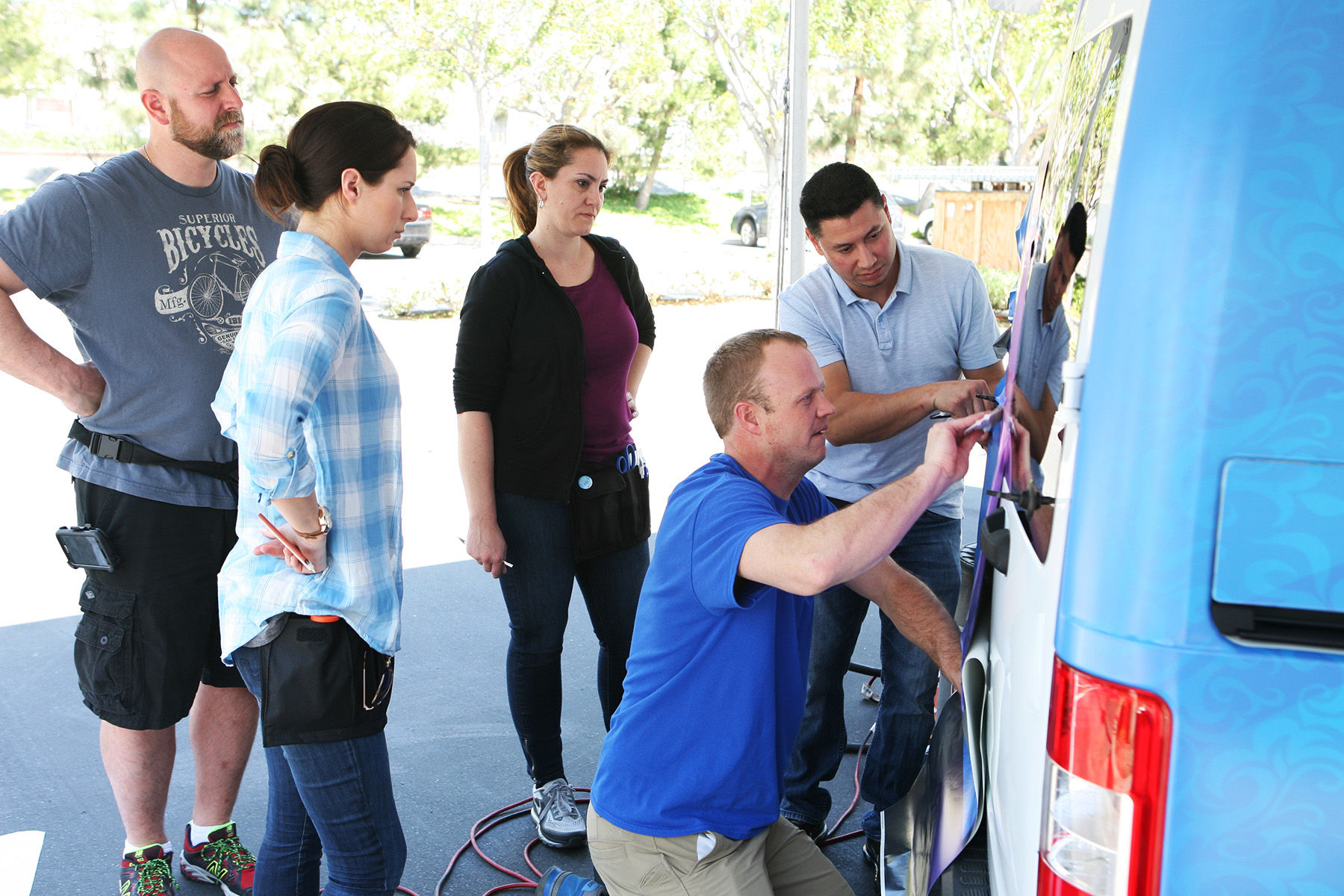 Leading Provider of Wide-Format Printers to Partner with Avery Dennison to Conduct Comprehensive, Hands-On Vehicle Wrap Classes Throughout the Nation

Irvine, Calif., Feb. 7, 2018 – Roland DGA has announced its 2018 schedule of "Born to Wrap" workshops – highly interactive two-day and one-day classes designed to help vehicle wrap designers, installers and shop owners take their abilities and operations to the next level. The hands-on workshops, sponsored by Avery Dennison, will be led by the vehicle wrap professionals from Louisville, Kentucky-based Digital EFX Wraps, renowned for their vehicle wrap installation and business management skills.

In addition to teaming up with Avery Dennison, a leading provider of vehicle wrap material, as well as Digital EFX Wraps, one of the top vehicle wrap shops in the country, Roland DGA will be partnering with several of its resellers to offer classes throughout the U.S. The 2018 schedule will include workshops at Denco in Portland, Oregon, Consolidated Color in Elk Grove Village, Illinois, Mac Papers in Orlando, Florida and Lithia Springs, Georgia, along with classes at Roland DGA's corporate headquarters in Irvine, California, the Roland East Coast Imagination center near Boston, the Richard Childress NASCAR racing team campus in Welcome, North Carolina, and the Digital EFX Wraps facility in Louisville.

This year's schedule features ten Born to Wrap "Basics and Beyond" workshops – two-day classes that provide a comprehensive overview of the vehicle wrap process and running a successful wrap shop – as well as a specialized one-day "Business & Design" class focusing on the marketing and operational aspects of a wrap business. Participants in all Born-to-Wrap classes will also receive instruction on getting the most out of Roland's advanced wide-format digital printing equipment for complete wrap and vehicle graphic applications.

"These workshops are ideal for anyone seeking to learn the 'ins and outs' of vehicle wrap," said Matt Richart, co-owner of Digital EFX Wraps. "Within the course of just a couple of days, attendees can acquire the kind of knowledge and technical expertise that took us many years to acquire in the field. We combine classroom education with hands-on instruction in a 'real world' shop environment to deliver a truly unique learning experience. Attendees walk away with a wealth of skills and knowledge they can begin applying immediately within their own workplaces."

The complete 2018 Roland Academy Born-to-Wrap workshop schedule is listed below:

Date Workshop Location

March 6-7 Wrap Basics & Beyond Image 1 Impact – Rancho Santa Margarita, CA

April 3-4 Wrap Basics & Beyond Denco – Portland, OR

April 17-18 Wrap Basics & Beyond Digital EFX Wraps – Louisville, KY

April 19 Wrap Business & Design Digital EFX Wraps – Louisville, KY

May 15-16 Wrap Basics & Beyond Richard Childress Racing Campus – Welcome, NC

June 5-6 Wrap Basics & Beyond Mac Papers – Orlando, FL

July 18-19 Wrap Basics & Beyond Consolidated Color, Elk Grove Village, IL

Aug. 7-8 Wrap Basics & Beyond Roland DGA Headquarters – Irvine, CA

Sept. 18-19 Wrap Basics & Beyond Roland DGA Imagination Center, Wilmington, MA

Oct. 2-3 Wrap Basics & Beyond Mac Papers – Lithia Springs, GA

Nov. 6-7 Wrap Basics & Beyond Richard Childress Racing Campus – Welcome, NC


For more information on the Roland Academy Born-to-Wrap workshops, or to register online, visit www.rolanddga.com/rolandacademy.


About Roland DGA

Roland DGA Corporation serves North and South America as the marketing, sales and distribution arm for Roland DG Corporation. Founded in 1981 and listed on the Tokyo Stock Exchange, Roland DG of Hamamatsu, Japan is a worldwide leader in wide-format inkjet printers for the sign, apparel, textile, personalization and vehicle graphics markets; engravers for awards, giftware and ADA signage; photo impact printers for direct part marking; and 3D printers and CNC milling machines for the dental CAD/CAM, rapid prototyping, part manufacturing and medical industries. To learn more about Roland DGA, visit www.rolanddga.com.