10,000th BN20 Buyer Recognized at PRINTING United 2022 Expo
Roland DGA Surprises Customer with Plaque and Gift Kit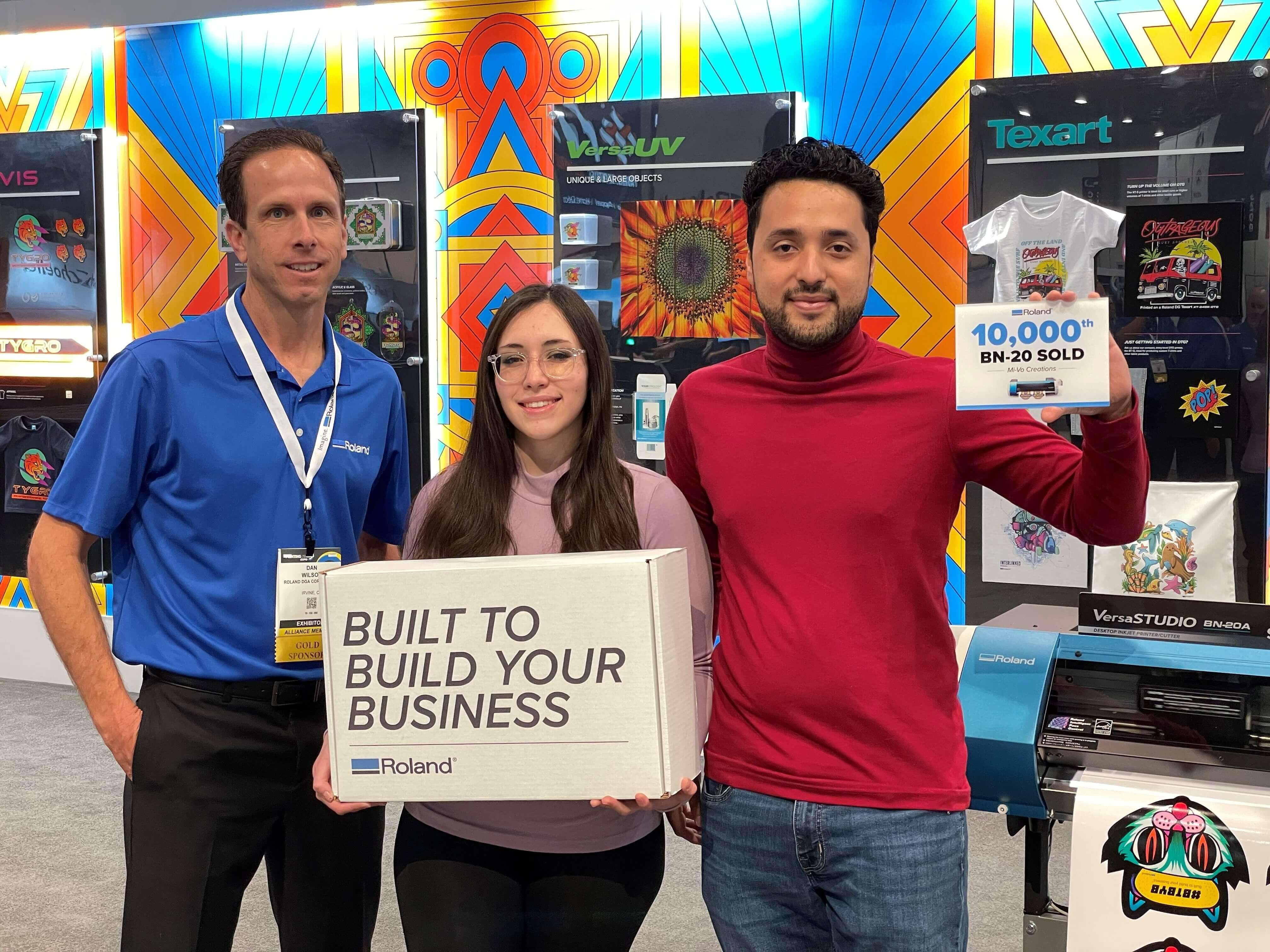 For more information, contact:
Marc Malkin
(949) 727-2100 ext. 1372
Irvine, Calif., October 27, 2022 – Wide-format imaging equipment leader Roland DGA Corporation recently marked the selling of its 10,000th VersaSTUDIO BN-20 desktop printer/cutter by presenting the purchasing customer, Mi-Vo Creations, with complimentary gifts and a commemorative plaque at PRINTING United 2022 in Las Vegas. The presentation took place during a brief ceremony held at the Roland DGA booth.
During the recognition, Mi-Vo Creations' owner, Bogard Perez, accepted a Roland-printed plaque along with four rolls of 20-inch Roland DGA media, ready to print on his new BN-20, plus custom Roland-printed V-MODA wireless headphones, a Roland-printed HydroFlask cooler, and Roland-branded apparel and accessories.
Perez and his fiancée, both Las Vegas residents, are in the process of starting up an online store that will offer a selection of customized stickers produced on the BN-20. The couple purchased their BN-20 printer/cutter in early October from Las Vegas-based authorized Roland DGA dealer, Montroy Sign & Graphics Products. Perez will be handling the day-to-day operations of the company, while his fiancée, a graphics designer, will be creating the unique sticker designs.
"When we heard from Roland DGA that we were the 10,000th BN-20 customer, we were pleasantly surprised," said Perez. "We were already thrilled with our purchase and all the great things this printer/cutter can do. Learning that Roland would be recognizing us at PRINTING United and presenting us with some free gifts just added to our overall excitement."
One of Roland DGA's all-time best-selling devices, the 20-inch VersaSTUDIO BN-20 is a compact, powerful eco-solvent desktop printer/cutter that combines outstanding print quality with unparalleled ease of use. Essentially, a "business in a box," the BN-20 produces vibrant prints and contour cuts even complex graphic shapes in a single, seamless workflow. It's also extremely affordable, making it an ideal device for those just starting out in the graphics industry.
To learn more about Roland DGA's VersaSTUDIO BN-20 Series printer/cutters, visit www.rolanddga.com/BN20. For more information on Roland DGA Corporation or the complete Roland DGA product line, visit www.rolanddga.com.
About Roland DGA Corporation
Roland DGA Corporation serves North and South America as the marketing, sales, distribution, and service arm for Roland DG Corporation. Founded in 1981 and listed on the Tokyo Stock Exchange, Roland DG of Hamamatsu, Japan is a worldwide leader in wide-format inkjet printers for the sign, apparel, textile, personalization and vehicle graphics markets; engravers for awards, giftware and ADA signage; photo impact printers for direct part marking; and 3D printers and CNC milling machines for the dental CAD/CAM, rapid prototyping, part manufacturing and medical industries.