Roland DGA Introduces New VersaUV LEF2-300 UV Printer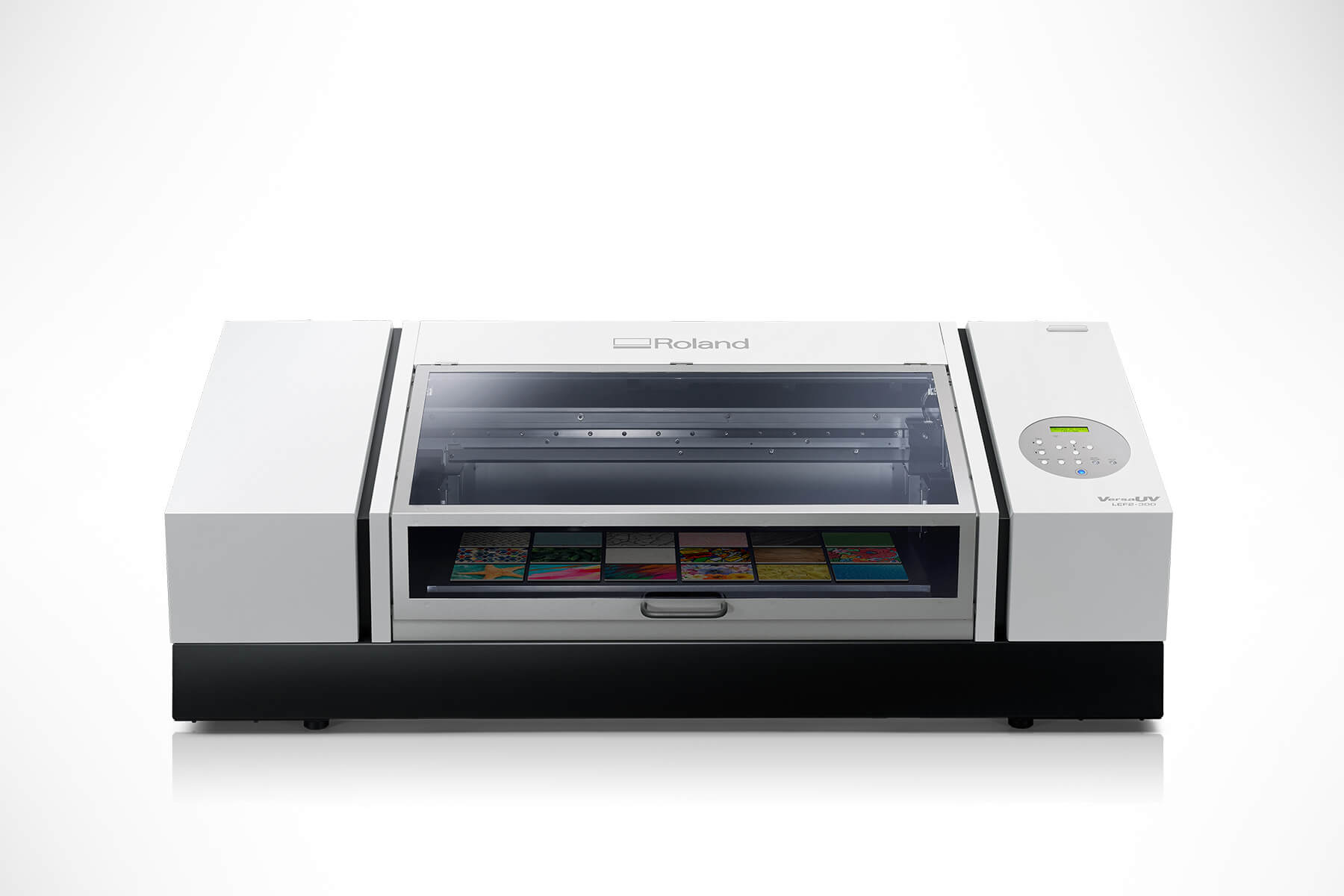 Larger, Faster UV-LED Flatbed Delivers Ultra-Realistic Graphics Plus Increased Efficiency and Productivity
Irvine, Calif., September 3, 2019 – Roland DGA Corporation, a leading provider of wide-format printers, printer/cutters and other advanced digital imaging devices, has announced the launch of its new 30-inch VersaUV® LEF2-300 benchtop flatbed printer. This next-generation LEF2 boasts all the advanced features of the 20-inch model released earlier this year, while also delivering 1.5 timesthe print area and printing speed. The LEF2-300 also incorporates new efficiency, convenience, and maintenance functionalities that raise overall performance to a higher level.
Like all Roland LEF series flatbed printers, the LEF2-300 can print directly on virtually any substrate or three-dimensional object up to 3.94 inches thick, making it ideal for a wide range of product customization applications. The LEF2-300 uses Roland's specially formulated ECO-UV inks in CMYK, as well as Gloss and White inks that allow users to incorporate specialty finishes, realistic textures, or 3D effects for a whole new dimension of customization. Additionally, with its larger 30.3" (W) x 12.9" (D) x 3.9" (H) print area and higher-volume output, the LEF2-300 is an expansive solution that fits the productivity needs of growing businesses.
The LEF2-300 employs UV-LED lamps to instantly cure ink on the surface of material with UV light, allowing photos, graphics and fine text to printed onto PVC, plastics, canvas, wood, leather, fabric, and other materials with unsurpassed print quality. Roland's specially formulated ECO-UV inks are designed for flexibility, enabling it to be used on curved and 3D objects, as well as a wide variety of materials, without cracking.
The new LEF2-300 feature enhancements make customizing or personalizing everything from plaques and giftware to golf balls and smartphone covers quicker, easier and more cost-effective than ever. A Start Timer Function completes print head cleaning setup and White ink circulation automatically by your designated start time, while a positioning fixture makes it easy to align items on the print table. For greater maintenance efficiency and convenience, the LEF2-300 adopts a new cleaning system that helps maximize printer reliability and reduce ink consumption during maintenance procedures. The LEF2-300 is also equipped with a safe, see-through cover that prevents dust from settling onto the surface of materials while printing. Additional new LEF2-300 features include a Multiple Print Function that allows you print the same data again with the touch of a control panel button, and a Printer Status Monitor for checking the operating status of multiple printers in real-time.
"The new VersaUV LEF2-300, along with our recently launched LEF2-200 flatbed, usher in a new era of customization performance," said Jay Roberts, Roland DGA Product Manager, UV Printers. "Built to help users expand their product offerings, build their businesses, and increase profits, the LEF2-300 is an excellent choice for those looking to create a vast array of customized and personalized products quickly and easily, while maximizing production capability, efficiency and profitability."
The LEF2-300 also comes with feature-filled VersaWorks® 6 software – Roland's most powerful, user-friendly RIP to date – with 64-bit processing, advanced RIP capabilities, useful cropping, tiling and nesting tools, and more.
To learn more about Roland's VersaUV LEF2-300 benchtop flatbed UV printer, visit https://www.rolanddga.com/LEF2-300. For more information on the complete Roland DGA product line, visit https://www.rolanddga.com.
About Roland DGA Corporation
Roland DGA Corporation serves North and South America as the marketing, sales, distribution and service arm for Roland DG Corporation. Founded in 1981 and listed on the Tokyo Stock Exchange, Roland DG of Hamamatsu, Japan is a worldwide leader in wide-format inkjet printers for the sign, apparel, textile, personalization and vehicle graphics markets; engravers for awards, giftware and ADA signage; photo impact printers for direct part marking; and 3D printers and CNC milling machines for the dental CAD/CAM, rapid prototyping, part manufacturing and medical industries. For more information, visit https://www.rolanddga.com.
About Roland DG Corporation
Roland DG Corporation is the world's leading provider of digital printing solutions. The company's inkjet printers, printer/cutters and cutting machines are widely used to create a broad range of promotional items including banners, signs, vehicle graphics, stickers and labels, and to provide customization services for apparel and personal items like smartphone cases. Recently, Roland DG has embarked on a promising new retail frontier by capitalizing on individuals' increasing desire to create their own, uniquely designed and decorated items. The company's COTO business division has developed proprietary design and print management software which enables customers to design their own gifts, apparel and treasured mementos, and to enjoy an unforgettable creative experience. For more information, visit https://www.rolanddg.com/en.