DGSHAPE Americas to Showcase Latest Digital Technologies at AGD2021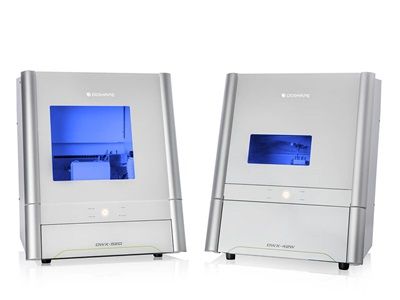 Irvine, Calif., May 25, 2021 – Roland DGA's DGSHAPE Americas dental business group will showcase its latest digital technologies at AGD2021, the premier event for the Academy of General Dentistry, June 10-12 in Austin, Texas. The leading provider of digital milling machines and other advanced dental devices and accessories will be demonstrating the impressive capabilities of its DWX series mills, including the
DWX-42W wet mill and DWX-52D dry mill at this important event. Exhibiting at AGD2021 will mark DGSHAPE America's first appearance at an in-person dental industry trade show since the onset of the COVID-19 Pandemic in early 2020.
"We're really looking forward to exhibiting at AGD2021 in Austin and giving attendees a chance to get up close and personal with our cutting-edge dental technology," said Roland DGA's Dental Solutions Product Manager, Lisa Aguirre. "The DWX-42W and DWX-52D are the best wet and dry mills in the industry, respectively. These innovative devices make producing same-day, chairside lab-quality restorations easier, faster and more cost effective than ever before."
DGSHAPE's wet mill – the DWX-42W – provides on-demand milling of crowns, bridges, onlays, veneers, and even custom titanium abutments with the DGSHAPE AK-1 Abutment Kit. With its open architecture, 6-station Automatic Tool Changer, Virtual Machine Panel (VPanel), ethernet connectivity, and newly designed grinding burs, the DWX-42W produces lab-quality CAD/CAM restorations with ease and precision. The DGSHAPE DWX-52D dry mill is a state-of-the-art five-axis dry mill engineered for unmatched ease of use as well as outstanding versatility, productivity, and reliability. It boasts a 15-station Automatic Tool Changer, an Intelligent Tool Changer, better disc handling, improved tool management, and a host of additional features.
For more information on the complete DGSHAPE product line, visit https://www.rolanddga.com/dental. To learn more about AGD2021, visit https://www.agd.org/agd-meeting.
About Roland DGA Corporation and DGSHAPE Americas
Roland DGA Corporation serves North and South America as the marketing, sales, distribution and service arm for Roland DG Corporation and its subsidiary, DGSHAPE. Founded in 1981 and listed on the Tokyo Stock Exchange, Roland DG of Hamamatsu, Japan is a worldwide leader in wide-format inkjet printers, engravers, photo impact printers and CNC milling machines. DGSHAPE Americas is the Roland DGA dental business group dedicated to the DGSHAPE line of products, most notable as a market leader in dental milling machines. To learn more about Roland DGA Corporation and DGSHAPE Americas, visit https://www.rolanddga.com/dental.