Roland's DGSHAPE LD-80 Laser Decorator Wins Laser Focus World 2018 Innovators Awards Program Gold Honors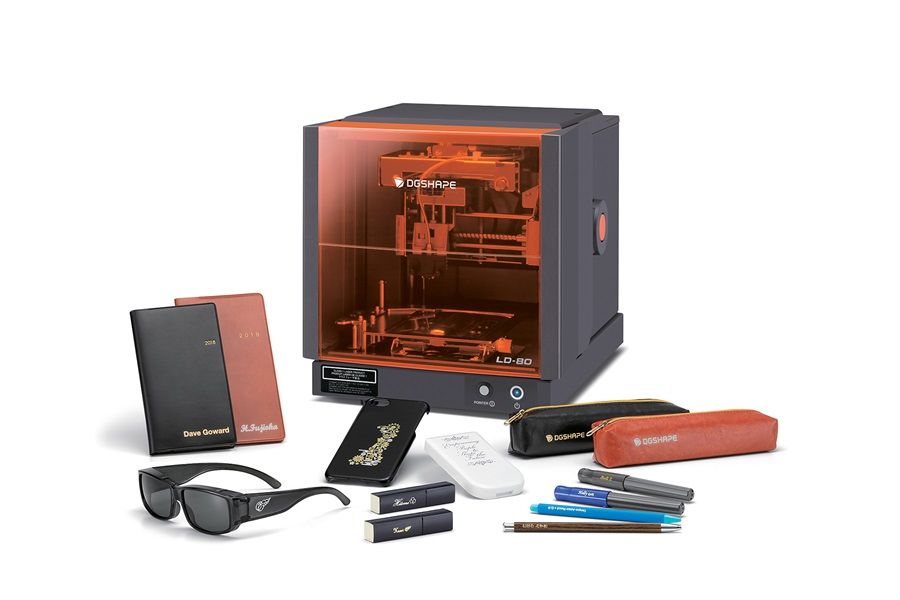 Irvine, Calif., May 25, 2018 – Roland DGA Corporation has announced that its DGSHAPE LD-80 Laser Decorator was recognized as a Gold Award winner in the 2018 Laser Focus World Innovators Awards. Held annually, the Laser Focus World Innovators Awards are presented to organizations that demonstrate excellence in the use of a product, system, or application. Submissions are judged by a panel of senior industry experts on originality; innovation; their impact on designers, system engineers, or users; and whether they fulfilled a new market need, leveraged a novel technology, and/or increased productivity.

Introduced earlier this year, the DGSHAPE LD-80 Laser Decorator makes it easy to personalize and enhance small, off-the-shelf acrylic, ABS and polycarbonate items with metallized and holographic foils. It enables users to incorporate stunning designs – even small text and fine details – quickly, easily and with incredible precision. The LD-80's small footprint, variable data capabilities, and ability to foil-decorate without a hot-foil stamp, make it unbeatable for on-demand foil decoration in retail stores, at kiosks, or at concerts and other special events.

"We're extremely proud to have our LD-80 receive a Laser Focus World Innovator Gold Award," said Andrew Oransky, president Roland DGA. "In addition to being a compact, cost-effective machine with unique foil decoration capabilities, it's also compliant with the safest Class 1 International Standard for products equipped with laser devices."

"This prestigious program allows Laser Focus World to celebrate and recognize the most innovative products and services in the photonics and optoelectronics industry," noted Alan Bernstein, publisher of Laser Focus World. "Our 2018 Honorees are an outstanding example of companies who are making an impact."

The 2018 Laser Focus World Innovators Awards Honorees are featured in the May issue of Laser Focus World magazine and at http://digital.laserfocusworld.com/laserfocusworld/201805/MobilePagedArticle.action?articleId=1392908#articleId1392908.

About Laser Focus World

Published since 1965, Laser Focus World – a monthly magazine for engineers, researchers, scientists, and technical professionals – provides comprehensive global coverage of optoelectronic technologies, applications, and markets. Of over 80,000 qualified optoelectronics professionals from around the world currently subscribe. The Laser Focus World brand includes the magazine, website (www.laserfocusworld.com), email newsletters, and webcasts. As well as, the sister brands, Industrial Laser Solutions and BioOptics World.

About DGSHAPE Corporation

DGSHAPE Corporation was spun-off of Roland DG Corporation in 2017 as a wholly-owned subsidiary to develop and market the company's innovative 3D products, including DWX mills and the DWP-80S 3D printer for the dental industry, MPX photo impact printers and EGX engravers for the industrial labeling and personalization industries, and the MDX and monoFab series of desktop milling machines for the rapid prototyping, manufacturing, and hobby industries. The company's products are distributed worldwide. To learn more about DGSHAPE Corporation, please visit www.dgshape.com.

About Roland DGA

Roland DGA Corporation serves North and South America as the marketing, sales and distribution arm for Roland DG Corporation. Founded in 1981 and listed on the Tokyo Stock Exchange, Roland DG of Hamamatsu, Japan is a worldwide leader in wide-format inkjet printers for the sign, apparel, textile, personalization and vehicle graphics markets; engravers for awards, giftware and ADA signage; photo impact printers for direct part marking; and 3D printers and CNC milling machines for the dental CAD/CAM, rapid prototyping, part manufacturing and medical industries. To learn more about Roland DGA, visit www.rolanddga.com.