Roland DG Announces New Roland DG Care PLUS Extended Warranty Program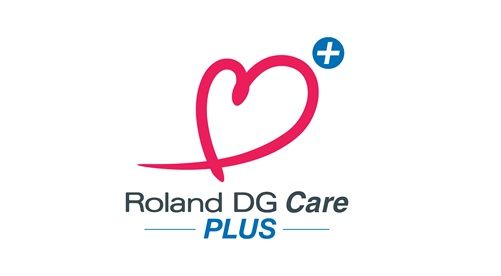 For more information, contact:
Marc Malkin
(949) 727-2100 ext. 1372
Irvine, Calif., April 13, 2023 – Wide-format imaging leader Roland DGA has announced the launch of its new Roland DG Care PLUS extended warranty program for TrueVIS™ printers, which offers customers the opportunity to purchase extended coverage at a significant discount when buying or leasing a new Roland DG TrueVIS printer or printer/cutter. With Roland DGA Care PLUS, customers can extend their warranty coverage beyond Roland DGA's already industry-best Two-Year Trouble-Free Warranty to include one or two additional years – for up to four years of total warranty coverage – at a significant savings.
Those who buy or lease a new TrueVIS printer can save up to $999 when purchasing warranty extensions through the new Roland DG Care PLUS plan. Leasing customers also have the option of rolling the discounted price for their third- and/or fourth year extended warranties into their monthly lease payments when bundled at the time of purchase, extending the coverage over the entire term at a minimal additional monthly cost.
Existing TrueVIS owners under warranty can take advantage of the Roland DG Care PLUS plan as well. Roland DGA is offering the same discounted pricing to current owners of TrueVIS devices who purchase their extended warranties now through June 30, 2023.
"Previously, TrueVIS customers only had the option of buying warranty extensions for their devices in one-year increments, and at a higher price," notes Roland DGA's Vice President of Service, Ron Ball. "Now, through the new Roland DG Care PLUS program, they can obtain up to two years of additional coverage up front and save a considerable amount of money. In addition to unsurpassed TrueVIS quality and reliability, they can get the extra peace of mind that comes with up to four years of warranty protection and pocket the savings."
To learn more about the new Roland DG Care PLUS extended warranty program for TrueVIS family printers and printer/cutters, visit https://www.rolanddga.com/care-plus. For more information on Roland DGA Corporation, or the complete Roland DGA product line, visit https://www.rolanddga.com.
About Roland DG Americas
Roland DG Americas serves North and South America as the marketing, sales, distribution, and service arm for Roland DG Corporation. Founded in 1981 and listed on the Tokyo Stock Exchange, Roland DG of Hamamatsu, Japan is a worldwide leader in wide-format inkjet printers for the sign, apparel, textile, personalization and vehicle graphics markets; engravers for awards, giftware and ADA signage; photo impact printers for direct part marking; and 3D printers and CNC milling machines for the dental CAD/CAM, rapid prototyping, part manufacturing and medical industries.