Roland DGA Introduces New TrueVIS VG2 Series Wide-Format Printer/Cutters with New TR2 Ink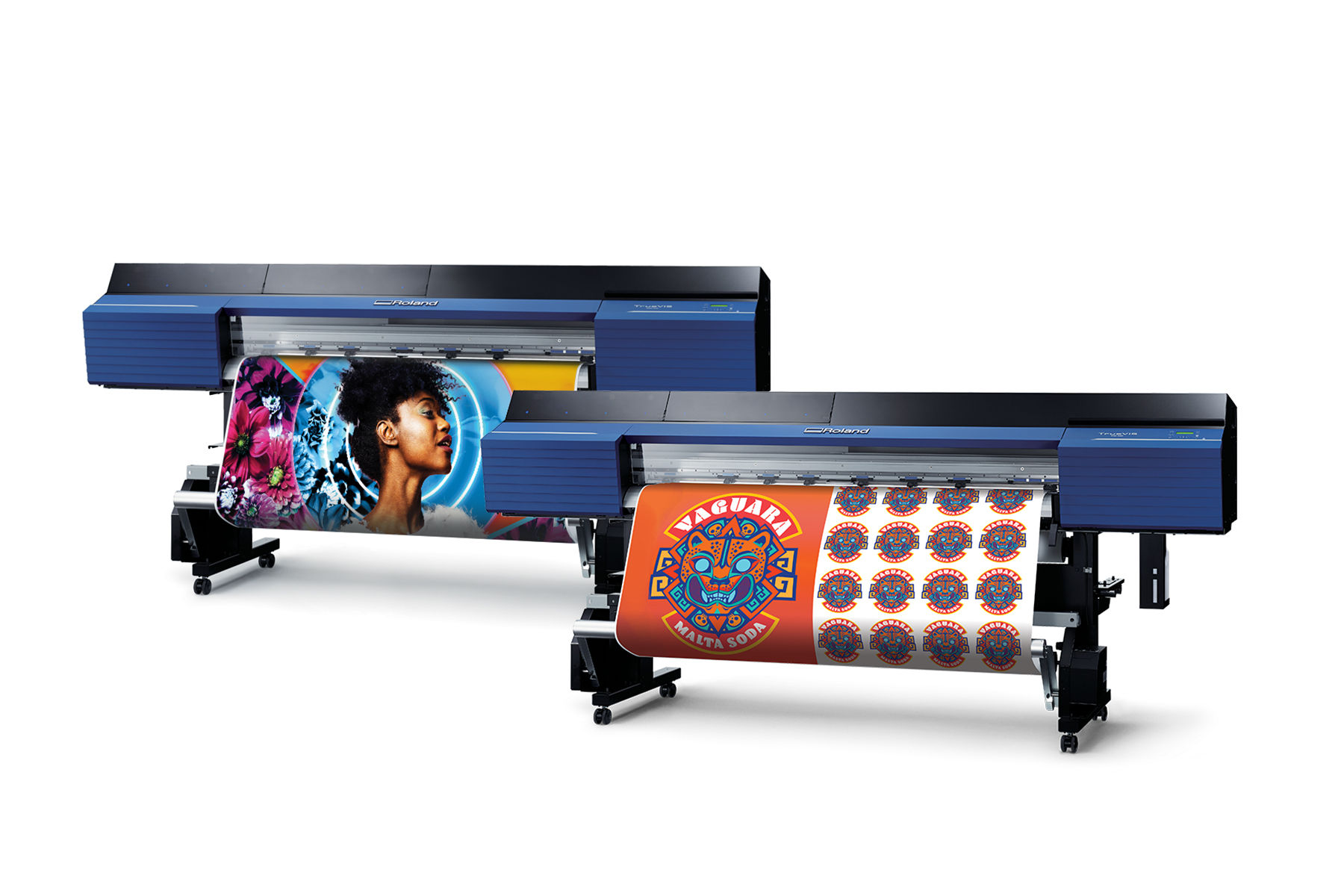 Irvine, Calif., March 5, 2019 – Roland DGA Corporation, a leading provider of wide-format inkjet printers and printer/cutters, has announced the launch of its next-generation TrueVIS™ VG2 series 54-inch and 64-inch wide-format eco-solvent inkjet printer/cutters. Uniquely engineered to exceed the needs of today's most demanding sign and graphics professionals, the new TrueVIS VG2 series offers comprehensive color choices, improved machine efficiency, and increased print-and-cut accuracy for true unattended production.
In addition to incorporating a host of technological advancements for optimum overall performance, the VG2 series uses Roland's new specially formulated TR2 ink, available in three different configurations with CMYK, plus additional Light Cyan, Light Magenta, Light Black, White or Orange. The ink choices, including new Orange ink, allow for a wider color gamut and more color control than ever before. Roland's VG2 printer/cutters also feature a new Multiprocess Color Function that enables the use of Orange ink as a process color, plus a new True Rich Color preset which allows vibrant color to be combined with neutral grays, smooth gradations and natural skin tones for stunning graphic output.

TrueVIS VG2 printer/cutters with TR2 ink are certified for long-lasting results by the 3M™ MCS™ Warranty providing assurance of the quality and durability of graphics on qualified 3M materials. The VG2 with TR2 ink has also earned Avery Dennison's ICS performance guarantee, and is certified GREENGUARD Gold for safe indoor graphic applications.

For unsurpassed image quality and printing precision, VG2 printer/cutters are equipped with Roland DG FlexFire™ print heads that produce neutral grays, vivid colors and smooth skin tones, even at high speeds.
The new VG2-540 and VG2-640 also feature improvements that increase both printing and cutting accuracy, for unsurpassed reliability during unattended operation. New middle pinch rollers raise automatically prior to starting the cutting process, while new crop mark options for cutting laminated printed materials, combined with optimized pinch roller pressure, ensure maximum cutting stability. A new, included TU-4 take-up unit supports two modes according to the type of media being used, further stabilizing the machine and ensuring a smooth post-printing process.

New VersaWorks® 6 RIP software, included with the VG2 series printer/cutters, boasts the latest Harlequin® dual core engine with PDF 2.0 and native 64-bit processing, a new icon-based interface with drag-and-drop functionality, and other easy-to-use capabilities that make it Roland's most powerful RIP ever.

"Roland DG's original VG series won prestigious 2019 Pick Awards from Buyers Lab for their outstanding color and productivity," notes Daniel Valade, Roland DGA Product Manager, Color Products and Cutters. "With the VG2 series, we've created a new generation of printer/cutters that are even more advanced, productive and easy-to-use. These innovative inkjets aren't designed to simply meet customer expectations, they're built to exceed them."

To learn more about the new TrueVIS VG2 series wide-format printer/cutters, visit https://www.rolanddga.com/VG2. For more information on Roland DGA Corporation, or the complete Roland product line, visit https://www.rolanddga.com.

About Roland DGA Corporation

Roland DGA Corporation serves North and South America as the marketing, sales, distribution and service arm for Roland DG Corporation. Founded in 1981 and listed on the Tokyo Stock Exchange, Roland DG of Hamamatsu, Japan is a worldwide leader in wide-format inkjet printers for the sign, apparel, textile, personalization and vehicle graphics markets; engravers for awards, giftware and ADA signage; photo impact printers for direct part marking; and 3D printers and CNC milling machines for the dental CAD/CAM, rapid prototyping, part manufacturing and medical industries. For more information, visit https://www.rolanddga.com.

About Roland DG Corporation

Roland DG Corporation is the world's leading provider of digital printing solutions. The company's inkjet printers, printer/cutters and cutting machines are widely used to create a broad range of promotional items including banners, signs, vehicle graphics, stickers and labels, and to provide customization services for apparel and personal items like smartphone cases. Recently, Roland DG has embarked on a promising new retail frontier by capitalizing on individuals' increasing desire to create their own, uniquely designed and decorated items. The company's COTO business division has developed proprietary design and print management software which enables customers to design their own gifts, apparel and treasured mementos, and to enjoy an unforgettable creative experience. For more information, visit https://www.rolanddg.com/en.