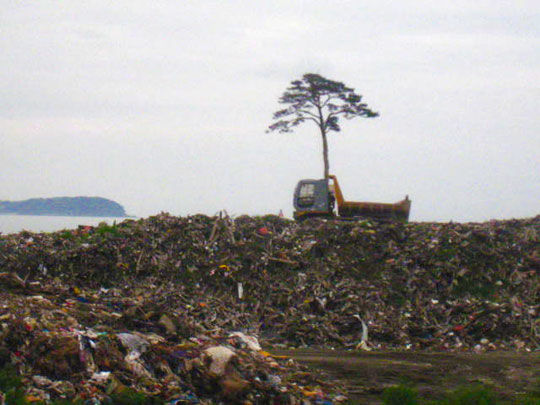 People call this The Miracle Tree. It survived the tsunami while the rest of the town vanished. (When the photo was taken a dump truck was there removing rubble.)
It's been 5 months since the country of Japan was turned upside down by a pair of natural disasters and a nuclear crisis. [See Dave's Blog immediately following the crisis "The Sun Will Rise Again"] While the world headlines have turned their attention elsewhere, the Japanese people are still dealing with the consequences and working on recovery day by day.
In July, our headquarters in Hamamatsu Japan held our annual "summer camp" meetings, drawing in Roland DG personnel from all over the globe. As Rick wrote in his Summer Camp blog post, the meetings offer an exchange of ideas, networking and new product information from R&D. But what I heard most about was the way the country is conserving energy. In the middle of their hot, humid summer, thermostats are kept at 85 degrees. [We complain if the office temp is over 72!!] I'm so impressed by the Japanese people who are so willing to sacrifice for the greater good.
Speaking of which, I discovered recently that one of my colleagues from our headquarters recently gave 4 days of her time to help disaster recovery efforts. I asked her to share a bit about her experience with me:
My weekend was very special. It took me 14 hours to get there by highway bus and same for the return. I worked for two days, the first of which I cleaned equipment at a fish processing company, and on the second day cleaned a residential street gully. The locals are very encouraged that they can now actually see the ground. (You couldn't a few months ago because of the heap of rubble from ruined buildings, furniture, smashed cars, and concrete.) However to me it still looked as if it were the scene of an atomic bomb or something from the Terminator movie. It's hard for me to fathom how long it will take for recovery.
I am impressed and humbled by the experience of our friends across the Pacific and reminded that although the newspapers aren't reporting on the crisis daily, the Japanese people still have a long way to go before life returns to normal.
If you'd like to help out and make a contribution, we recommend doing so through the Red Cross. That is how we at DGA have contributed.