Interview with PJ Brassard, Graphic Design Director at Richard Childress Racing Graphics Center, Powered by Roland DG
PJ Brassard recently talked to Roland DG about the unique relationship he has with Roland DG technology and the effect that our machines have had on his professional life– both before and during his tenure at
RCR Graphics Center.
From his humble beginnings at a local sign shop to managing design output at one of the premier sign and wrap companies in the country, he revealed how Roland DG
printers
have been a constant in his day-to-day operations.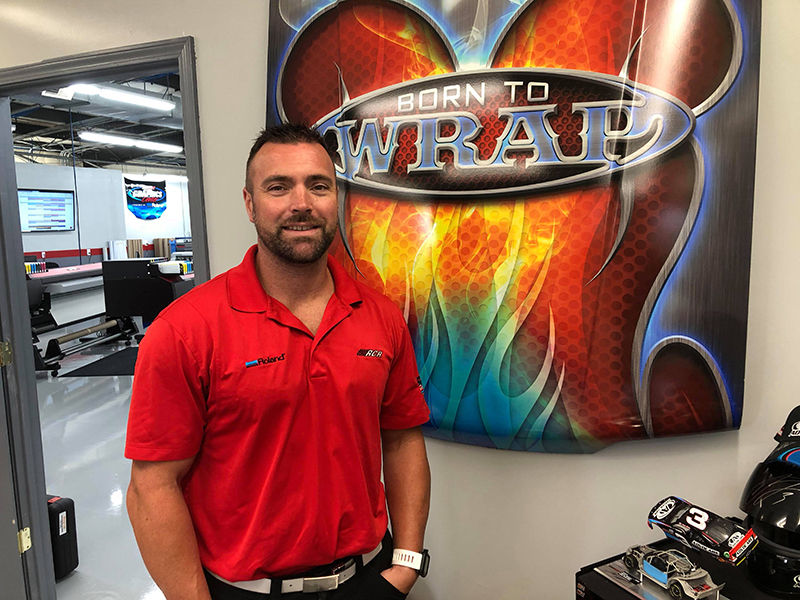 PJ stands in-front of a hood he designed and wrapped for our Roland DG Born-to-Wrap Workshops
Meeting Roland DG Printers for the First Time
PJ joined RCR Graphic Center seven years ago this December and has never looked back, but he started out on his design path after earning a fine arts degree in Graphic design from the College of Saint Rose in Albany. After leaving college he got his start in large-format printing at a New York sign shop. He described the moment when he first saw a large format Roland DG printer.
"I saw this big printer and it was a Roland DG XC or SC-540, and I had never in my life seen anything this advanced. I was using tiny printers before and fell in love with the large-format printing and Roland DG machines."
PJ left the sign shop to start his own design and print company— becoming highly-skilled with Roland DG equipment along the way. In 2006, he heard about a Roland DG car wrap contest that changed his life for the better. He explained how this contest was a pivotal moment in his career.
"There were over 450 entries nationwide and I ended up winning. It put my name on the map. Since then, I've been commissioned to work on their 'Born to Wrap' tradeshow campaigns. It's been really cool."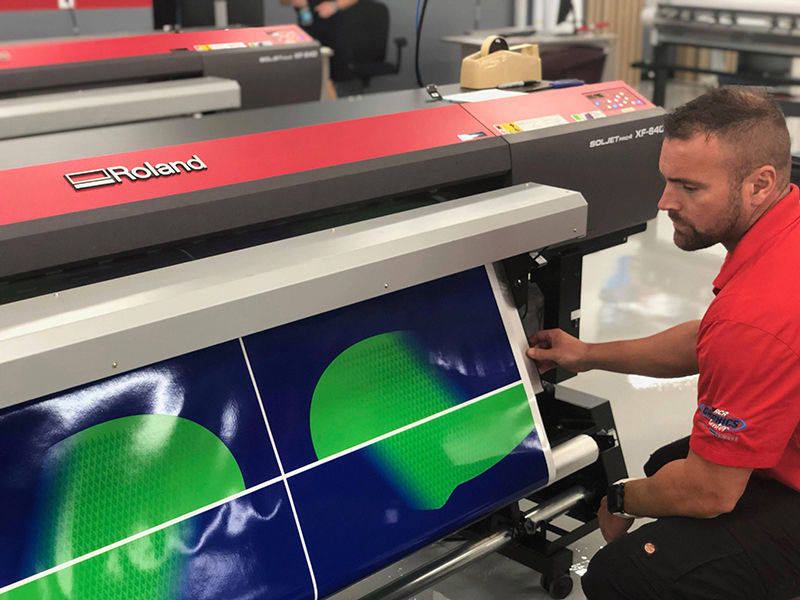 PJ taking one of his latest car wrap designs off a Roland DG printer
From Roland DGA Dealer to RCR Designer
PJ then went on to explain how this Roland DG competition win presented him with an opportunity to become a Roland DG dealer, sharing his expertise of Roland DG machines, as well as his consummate sign and design knowledge with new Roland DG users.
"I became a Roland DG dealer and would help service equipment and train new users to get the best out of their equipment. I really got to know the equipment, and how to service the machines, but I also had the design knowledge to teach users how to set up color and make the most of their equipment."
During this time, PJ met Nick Woodward, Graphics Manager at RCR Graphics Center at a Roland DG tradeshow in Las Vegas. After talking with Nick and expressing his interest in changing career paths, he traveled to Welcome, North Carolina to work with RCR Graphics Center for a week as a trial run. He described how this fortunate meeting led him to major industry success.
"It was a great fit for me and it was awesome because I remained in the Roland DG family— working with Roland DG machines and technology that I trust. It also meant that I got to create stuff that's seen nationally on TV week-in and week-out. It's neat when you turn on the TV and see a car that I designed."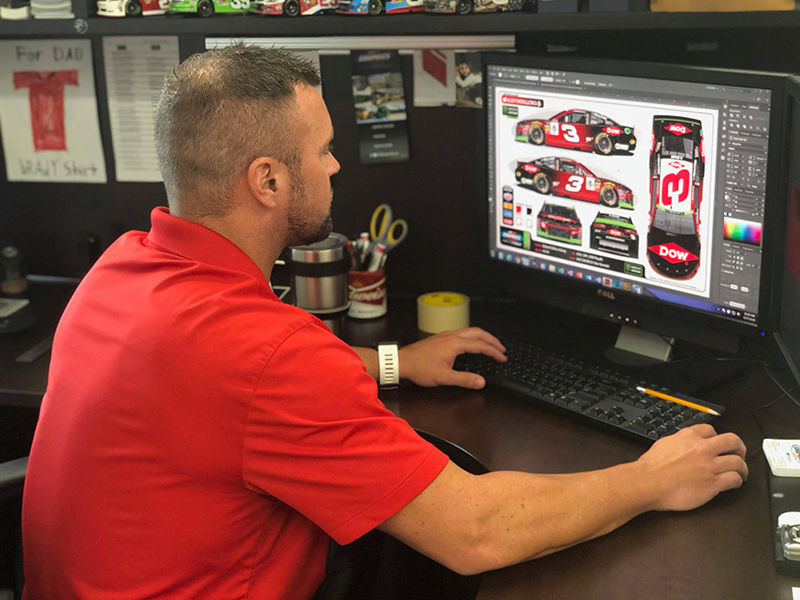 PJ working on a car wrap design at RCR Graphics Center
Heading the Graphic Design Team at RCR
Since joining RCR Graphics Center, Brassard has become an essential figure in the wrap design process— creating high-profile wrap projects for the Richard Childress Racing NASCAR team. The RCR partnership of companies work closely together to create, design and get partner approval for projects on a regular basis. According to PJ, the Roland DG tools at their disposal make this process much smoother and give RCR Graphics Center an advantage over the competition.
"When we're pitching to a potential partner, someone from our marketing or business development team will provide the basics about the company – website information, logo and color guidelines. From there, I really have the creative liberty to go forward with putting it all on the car— combining branding, colors and promotions— it all goes into the design process."
From that initial brainstorming and research, PJ takes what he has learned and transfers it over to Adobe Illustrator to develop a race car design from a blank digital canvas. He explained that his true challenge is taking information and bringing the partner's particular brand to life when he has limited time and a small window of creativity allowed by the NASCAR sanctioning body.
"There are so many restrictions and limitations put in place that you almost have to be over-creative to make it all work. NASCAR has certain limitations as to where graphics can be on the car, and from our perspective, having the most bang for that partner and maximizing their exposure – whether on the hood or the quarter panel or rear decklid – we have to get really creative to make it fit within those specifications."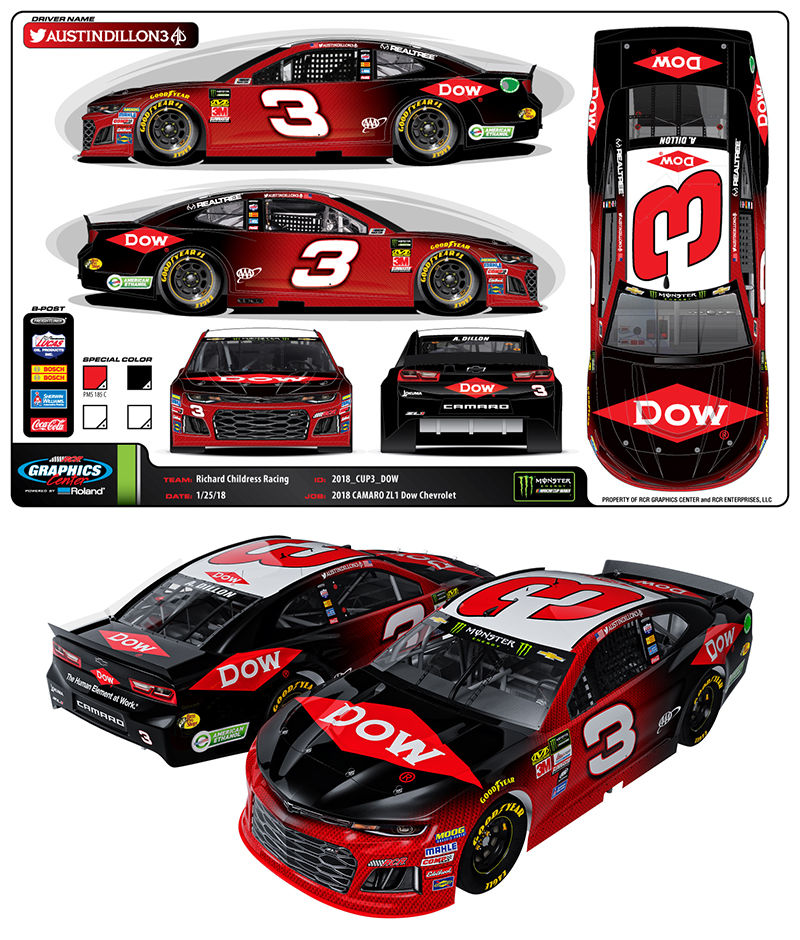 RCR Graphics Center design and the finished NASCAR wrap for Austin Dillon's Daytona 500 winning 2018 Chevrolet Camaro ZL1
One thing that does not stand in the way of PJ's creative design is the Roland DG equipment he uses every day at the RCR Graphics Center. The technology that Roland DG provides allows the RCR marketing and business development team the chance to provide a potential sponsor with the exact colors and renderings needed to match their brand standards. He revealed to us that this is not something that all graphic development and printing equipment is able to do.
"The Roland DG equipment is a huge help in terms of the creative process because we're able to do anything that's possible with traditional paint methods. Because Roland DG is superior technology, we can color match Pantone colors or even a photo. The equipment is just far superior to anything else out there. It allows us to deliver what the partners are looking for, plus, give the car an amazing look out on the track."
PJ's story is not uncommon in the industry. Many sign and graphics professionals have worked with Roland DG cutters, printers and sign and graphics solutions all their professional lives. When you know something works, and works better than other technologies available, why choose anything else? And when Roland DG printers get the kind of results that RCR Graphics Center achieve on the track, why would PJ and the RCR Graphics team put their trust in anything else?