It was quite literally a whirlwind of a show for Roland DG, but thankfully, a tornado couldn't stop PRINTING United in Dallas from being one of the biggest and most exciting tradeshows we've had the pleasure of exhibiting at. Printing UNITED 2019 was very significant for Roland DG. It was a new show, a new venue, and a whole truck-full of new Roland DG products that we were thrilled to present to the world.
Roland DG Really Brought it at PRINTING United!
At the show, the Roland DG booth was a hive of activity for attendees, Roland DG dealers, and Roland DG partners who were seeing many of these products for the first time. Among the ten new products that created a huge buzz was the new IU-1000F high-productivity UV-LED flatbed that sat front-and-center and drew big crowds by printing big, high-impact graphics on 4' x 6' boards to demonstrate its speed, quality and print performance. There was also a lot of attention around the affordable new VersaUV LEC2-300 UV printer/cutter that printed decals and stickers during the show—wowing people with brilliant color quality and 3D Gloss ink effects that add such cool textures and tactile elements to print/cut graphics.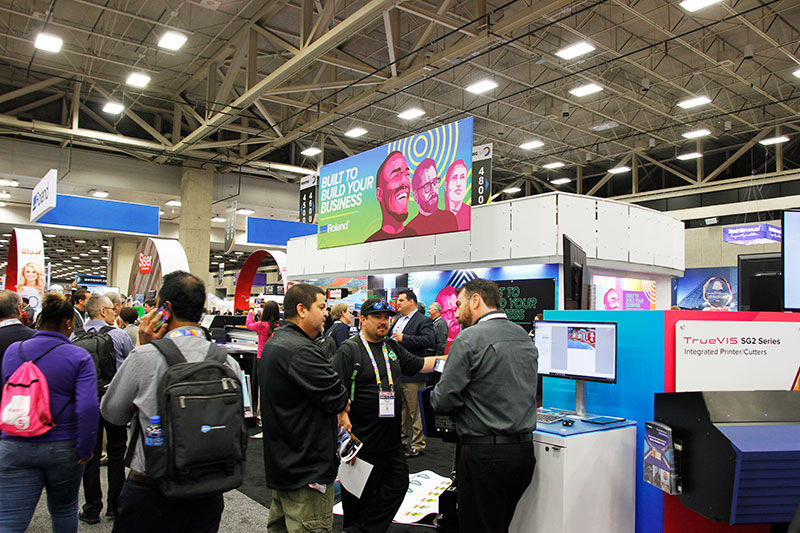 The very busy Roland DG Booth at PRINTING United with attendees, Roland DG dealers and Roland DG partners all wanting to know more about the brand-new products at the show.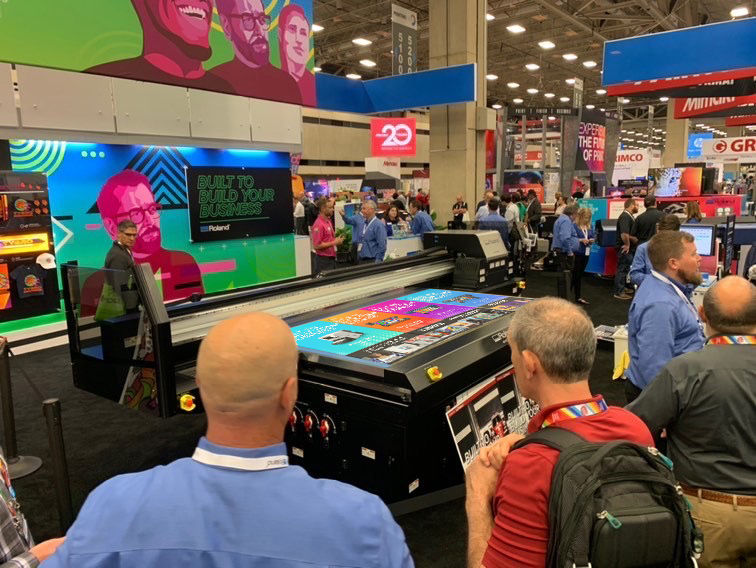 The IU-1000F with a crowd round it— all clamoring to see its incredible speed and print performance for themselves.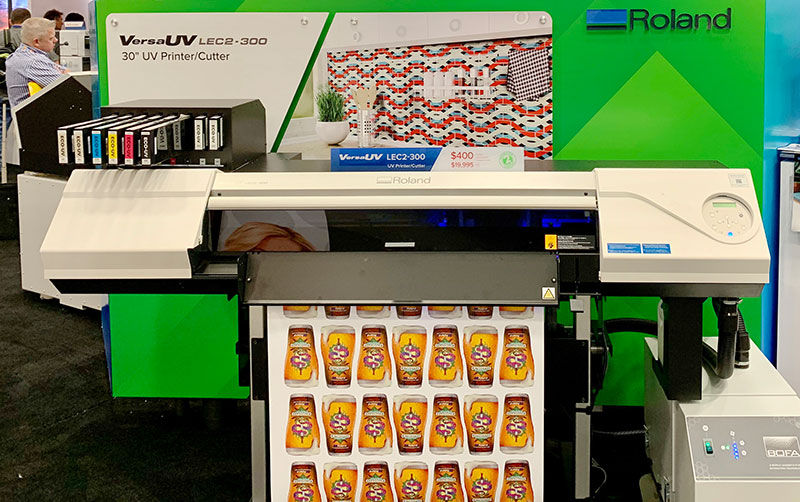 The VersaUV LEC2-300 UV printer/cutter— producing stickers with realistic textures that look like you can pull them right off the material and take a drink.
Our flagship TrueVIS printer/cutters also had a constant stream of booth visitors gathered round them, with many attendees visiting PRINTING United and our Roland DG booth specifically to see if the rumors about the color quality of the new generation of TrueVIS were true. These machines didn't disappoint, as Roland DGA Digital Print Product Manager, Daniel Valade explained, "Once again, the TrueVIS series of printers/cutters stole the show." He continued, "In addition to the VG2 and SG2 series winning 2020 BLI pick awards for Outstanding Gamut Expansion and Outstanding Enhanced CMYK, the TrueVIS series didn't fail to impress attendees with print quality and cut accuracy that stood-out against the competition."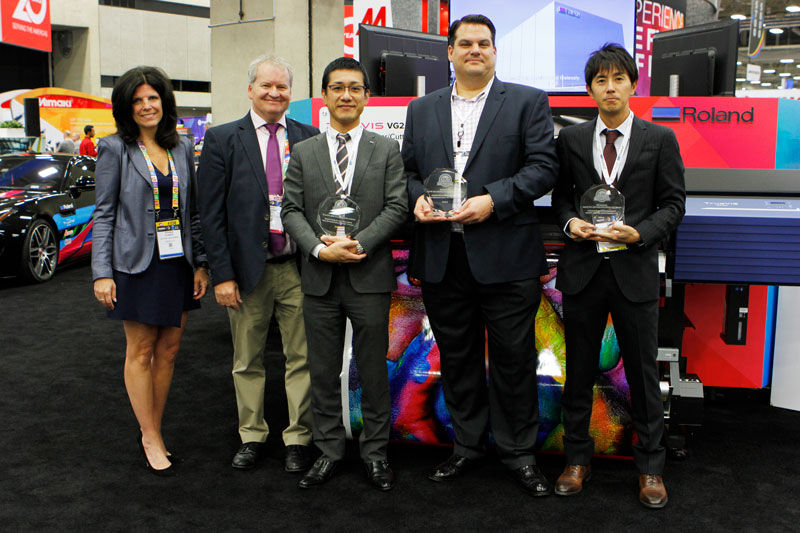 Roland DG Digital Printing Division President Kohei Tanabe (center), Roland DGA President & CEO Andrew Oransky (second from left), and Roland DG Producer, DP Product Management Unit, Ryo Baba, with the three Buyers Lab 2020 "Pick Awards" the company received for its TrueVIS series wide-format printer/cutters.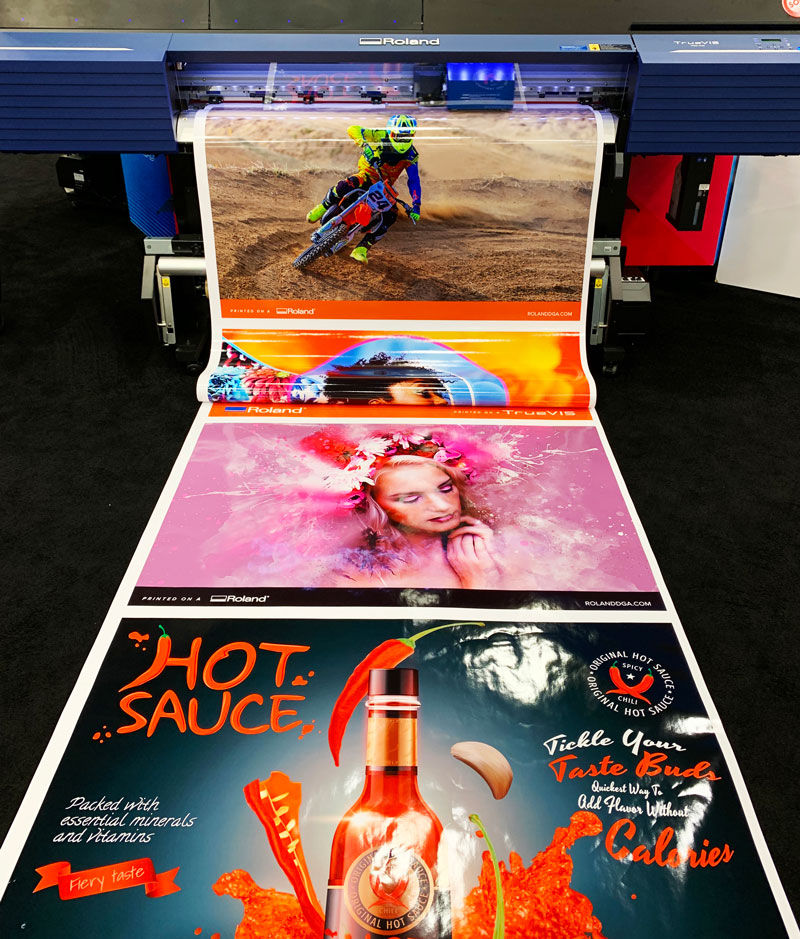 Amazing prints coming off the TrueVIS VG2 540 series printer/cutter — attendees were blown-away with the Orange ink options and wide color gamut.
Roland DG Went Beyond Signage at PRINTING United
In addition to new large format devices, we also saw a lot of interest in some of our latest desktop and benchtop devices, like the "hot-off-the-shelves" new DGSHAPE LD-300 laser decorator and LV laser engraver devices. Attendees were excited to see these advanced new products that contributed to a more creative booth experience. Visitors told us that they always get to see the "unexpected" with Roland DG. When entering our booth, they are assured of a new piece of technology to stimulate new ideas and imagine new opportunities.
Roland DGA Technical Sales Representative, Garrett Smawley was witness to this excitement for new Roland DG technology. After talking to attendees while he personalized wallets, organizers, gift boxes, and luggage tags with the LD-300, he concluded that, "What people really liked about the new LD-300 at the show was how we took the traditionally involved process of hot stamping foils and digitized the whole process in a compact machine." He added, "As a streamlined, versatile and easy-to-learn device, it opens doors to imprinting metal foils on all sorts of unique items— it was exciting to see how the LD-300 can inspire people."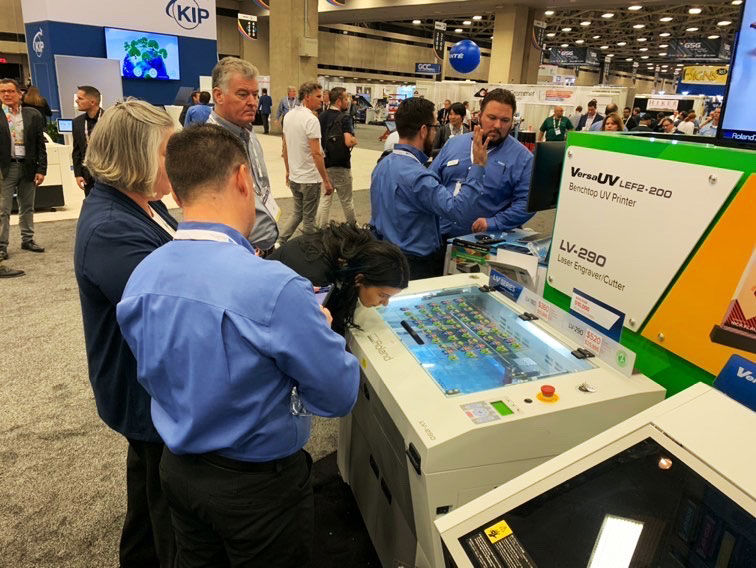 Roland DG representatives, Garrett Smawley, Taylor Stone and Kevin Rosen show custom keychains to attendees that can be laser-cut in acrylic with an LV series laser engraver and directly printed on with a VersaUV LEF printer.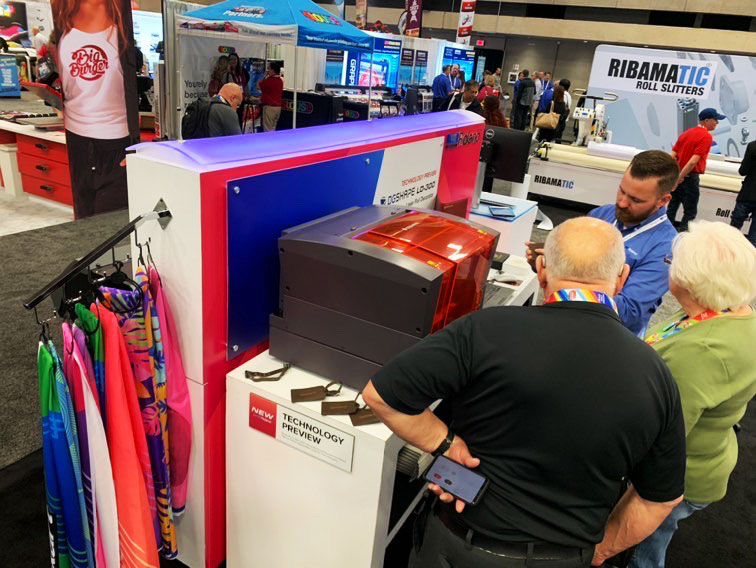 Garrett Smawley shows intrigued attendees how to customize items with the new LD-300 that made its North American debut at PRINTING United 2019.
A Booth Full of Color and Energy
Color was really big at PRINTING United— a testament to our latest generation eco-solvent, UV, and dye-sublimation technologies that get color results that have to be seen to be believed. Booth visitors were very complimentary about the vivid landscape that we created that they felt comfortable and energized in. Applications printed on the new VersaEXPRESS RF-640 8-color printer, Texart RT-640M multi-function dye-sublimation printer, and other new Roland DG devices created a stunning environment that combined with a positive message of "building your business" to give visitors a positive experience.
Roland DGA, Creative Manager, Ed Navarro commented on the booth and how it was received, "After speaking with attendees about the new "Built to Build Your Business" booth graphics, what really stood out to them was the ultra-bold designs that we were able to produce on our machines." He continued, "They were also able to interact with our products for a more immersive experience. They were able to feel the end results and see applications and possibilities all around them— even as they looked up, they could see fabric decorations and applications."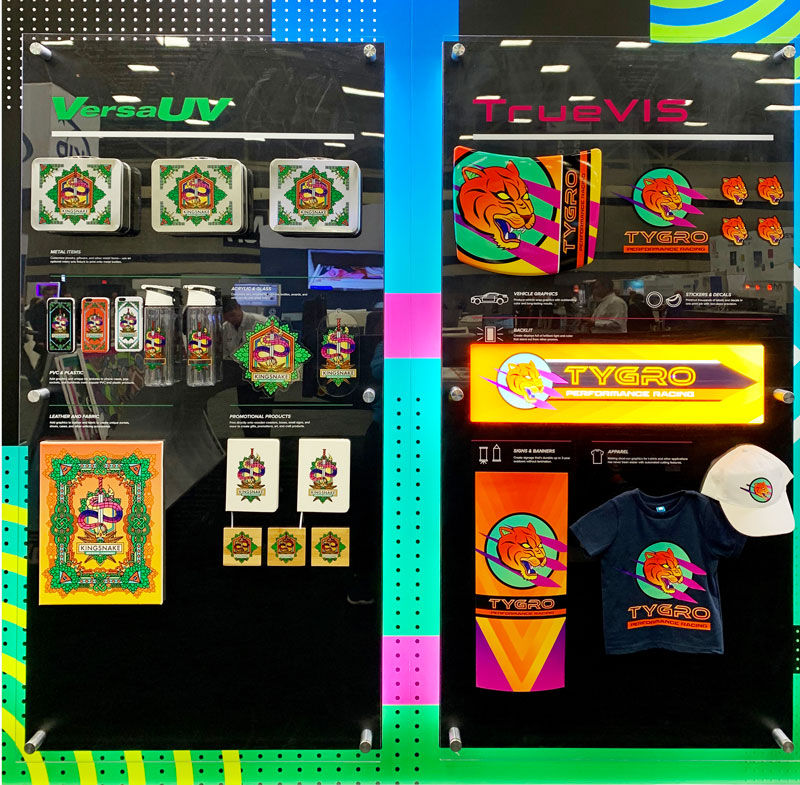 Bold and brilliantly colorful applications adorned the Roland DG booth— showing attendees just how much they can produce and achieve with VersaUV, TrueVIS and other Roland DG technologies.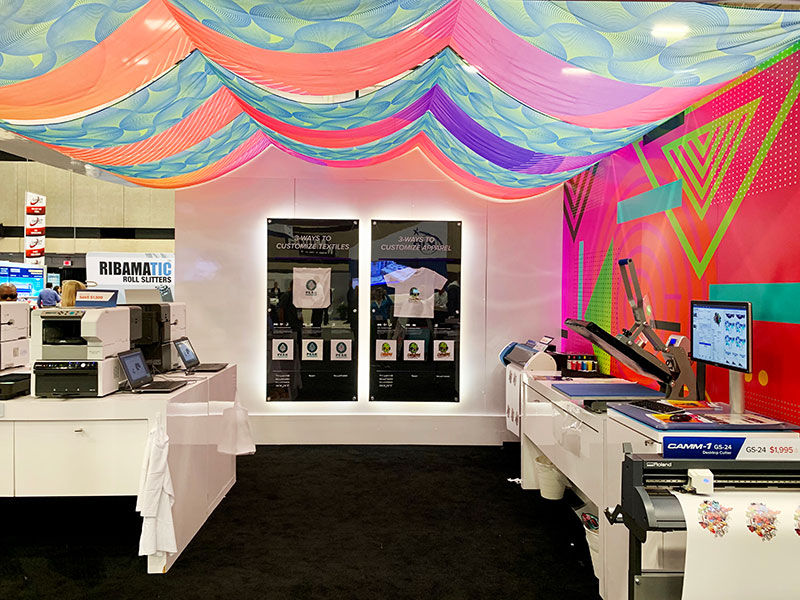 The booth with a warm and inviting feel— everywhere an attendee looked there was a Roland DG application to inspire them.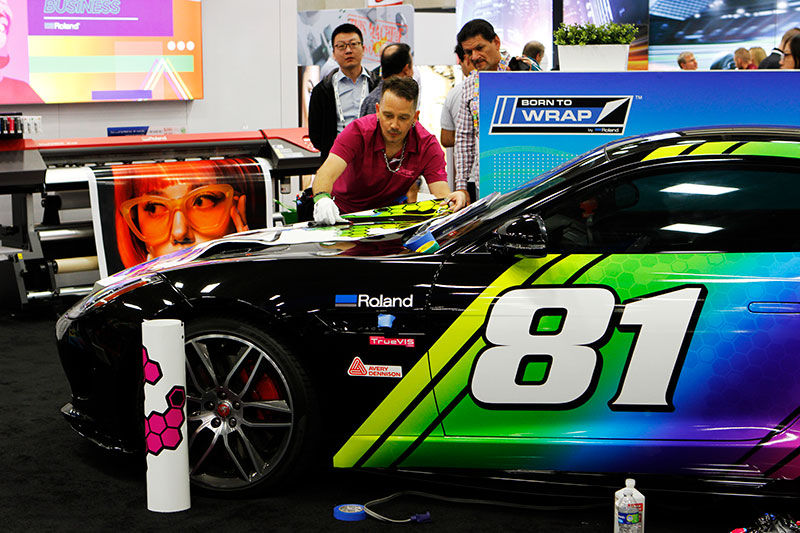 Dallas Fowler from Digital EFX Wraps shows excited crowds of wrap fans how to wrap a jag— the #81 sportscar wrap graphic was our tribute to the Roland DG company that was founded in 1981.
Customizing Tote Bags at the Show
Another big hit in the Roland DG booth was our custom tote bag giveaway in which we offered free tote bags to attendees who were able to customize them with the VersaSTUDIO BT-12 direct-to-garment printer. We printed well-over 100 bags for happy attendees who walked away with full-color tote bags with their cats, family photos, Halloween designs and other personal graphics on. We enjoyed giving back to the PRINTING United attendees who came to our booth and gave us such valuable feedback about our products.
Roland DGA, Marketing Assistant, Jordan Johnson described the diversity of attendees at the show who enjoyed the simplicity of the BT-12, "There were experienced sign and graphics people who were tired of weeding and heat-pressing who loved this machine, as well as those new to the industry who had found a device that they could take-away and start using immediately without any training."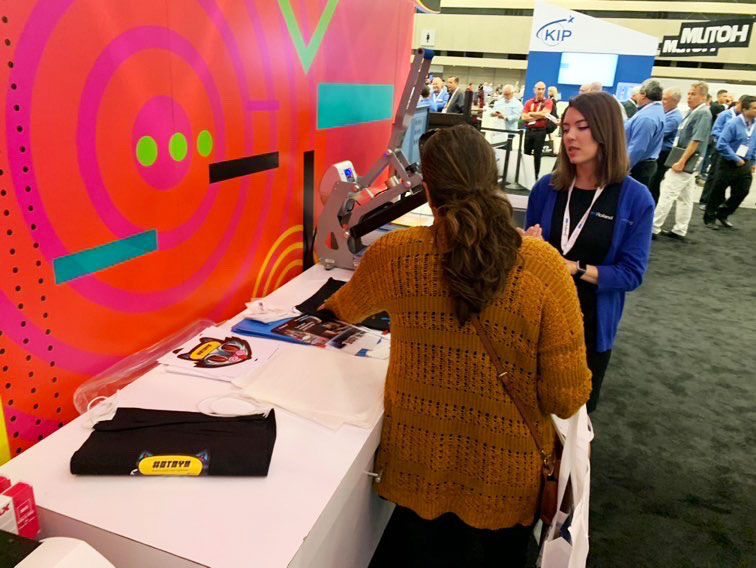 Jordan Johnson shows an attendee some of the different ways to customize fabric and apparel with Roland DG technology.
Eva Palacios and Misael Palacios from Round Rock,Texas, taking home their custom tote bag that was customized with the new BT-12 direct-to-garment printer.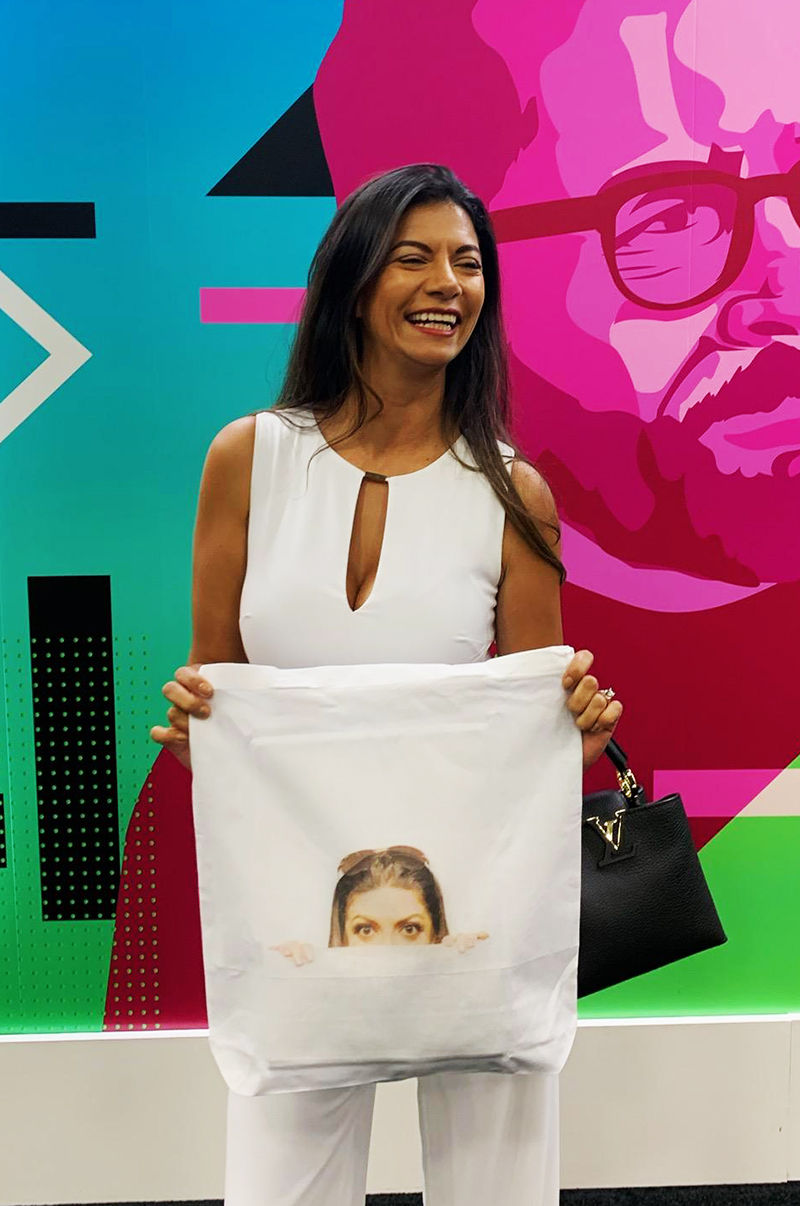 Attendee, Vanesa Curry, showing-off her personalized tote bag that she printed on the BT-12 direct-to-garment printer using one of her favorite photographs.
PRINTING United 2019 was a huge success for Roland DGA. More than just an opportunity to showcase our new generation of products, it was a chance to make even stronger connections with our customers and partners. As Roland DGA President & CEO, Andrew Oransky explained, "Printing United lived up to its billing as THE place for the print industry to congregate and cross-pollinate in 2019." He added, "We spoke to a great mix of our traditional customers and a broad range of print people from other parts of the industry. Everywhere I went, there was a crowd, and the energy level was extraordinary."
People actually spent time in our booth, looking at the exceptional machine graphics, booth graphics, displays and inspirational messages that we had on display. Like our graphics suggested, Roland DG is giving people the tools, solutions and support they need to build their businesses.