The Educational Workshop with Technology Educational Concepts event at Roland DG Imagination Center in Wilmington introduced attendees from New England school districts to the latest Roland DG technology solutions. The four-hour workshop gave department leads, instructors, and administrative staff a detailed view of Roland DG's ready-to-teach digital fabrication solutions.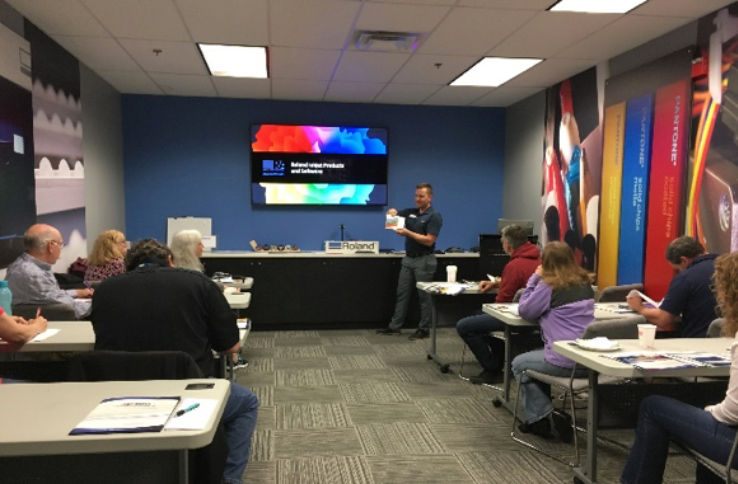 Showcasing Roland DG Education Solutions to attendees of the Educational Workshop with Technology Educational Concepts.
The well-attended workshop also offered general discussion about how the technology works, software demonstrations, and a Q/A session regarding various applications. Attendees viewed the different file setups for printing custom journals on the LEF-300, experienced heat transfer graphics production with the TrueVIS printer/cutter, and received instruction on the five-step CAM setup on SRP Player software. Attendees were actively engaged in the conversations about our machines and were excited to see how Roland DG Education solutions could answer the needs of educators and students.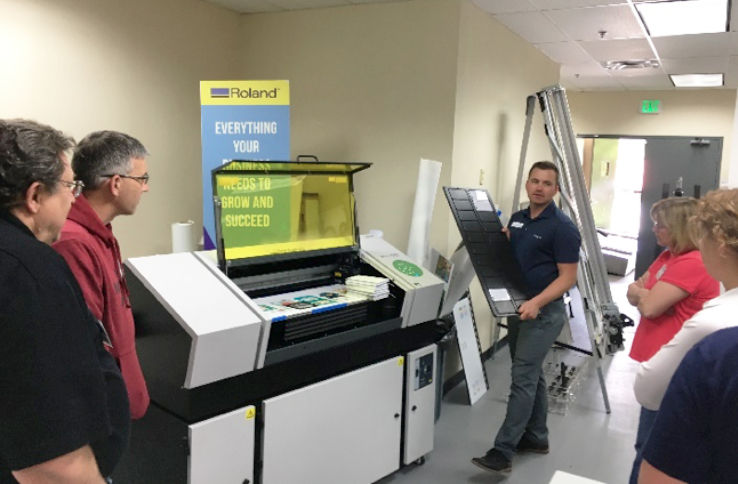 Excited attendees got to see and experience VersaUV LEF-300 printing onto journals.
From brand new users to seasoned Roland DG customers, attendees came to the workshop to expand their user knowledge, to learn more about Roland DG Education Solutions, and to see how they can incorporate Roland DG products into classrooms and education departments. Everyone at the event got hands-on experience of Roland DG software and left the workshop with a greater understanding of digital fabrication.
Attendees getting practical, hands-on experience of heat transfer production.
It was good to see such enthusiasm for Roland DG technology. Some attendees drove four hours to attend the workshop— a great indication of the high importance that many educators put on Roland DG machines and solutions. It was clear that attendees got a lot out of the workshop.
See Roland DG's simply smarter digital fabrication solutions for art, design and engineering, and discover ready-to-teach Project Based Learning tutorials that combine with our machines and software to deliver a better teaching package for STEM and digital fabrication programs.