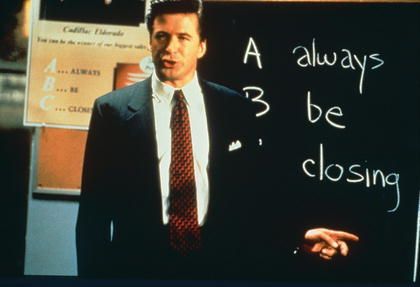 Alec Baldwin in Glengarry Glen Ross
Glengarry Glen Ross, the 1992 movie, featured an all-star cast: Al Pacino, Jack Lemmon, Alec Baldwin, Alan Arkin, Ed Harris, Kevin Spacey and Jonathan Pryce. During a memorable scene, Alec Balwin says the famous phrase:
"ABC. Always Be Closing."
If you've seen the movie, you've got to admit it's a great scene, but certainly not a great example of sales training.
The last two days we've had Gerry Layo here doing his sales training boot camp for folks from all kinds of different industries. Previously, we have had our own salespeople and many of our dealers attend, because sales training is something every salesperson should be doing to improve their skills. There's always something new to learn and sales role-playing – practicing in a controlled environment -is a great way to do it.
Here's the question: Are your salespeople practicing on your customers?
Sure, there's nothing like face-to-face meetings or phone calls with customers. You can learn something with each interaction. But it's a good idea to make the most of every interaction by being a professional sales person and better serving your customers.
Speaking of sales training & motivation, at the upcoming ISA show in Vegas we have the privilege of Skip Grant presenting in our booth theater on "100 Ways to Print & Profit With A Roland DG." It's a great program and Skip is an infectious presenter – not only passionate about all the things you can do with a Roland DG (there are more than 100!) but also has great ideas for how businesses can save time, reduce stress and increase profits.
So, what are you doing to be a better salesperson? What are you doing to help your salespeople be better salespeople?
Remember, Always Be Closing. Easy as ABC.
Thanks for reading,
Rick
For a bonus, here's a link to a recent Inc magazine article, "10 Greatest Salespeople of All Time."