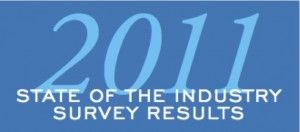 Attached is a survey [ ISA_2011_Expo_Survey_Results_FINAL ] that ISA recently distributed that I think you'll find interesting, and a very positive outlook for the sign business going forward. It was compiled after ISA spoke to 200+ CEO's or shop managers at the recent 2011 ISA show.
I looked at combining a few of the categories, and when you roll them up, it's overwhelmingly positive. Here's a few combined stats:
1.) 74% of CEO's are planning on investing in new equipment in the next 12 months.
2.) 76% of all respondents are planning on buying a wide format digital printer, CNC router/Cutter or narrow format printer.
3.) 62% experienced growth of greater than +6% in the past 6-months.
4.) 75% expect their businesses to grow more than +6% in the next 12-months.
I suspect that an overall economic recovery is driving demand to sign shops, and owners are responding with new equipment or expanding their capacity.
What's your take? Do you see business improving over the next 6-12 months?
Thanks for reading,
Rick