Likely, most Roland DG vehicle wrap users and other Roland DG gearheads have already seen the Mad Max Fury Road movie with its spectacular array of post apocalyptic hotrods and weirdly wonderful machines. What you might not know is that Roland DG had a small part to play in the promotion of this movie with a very special F1 car that looks like it spent more time in the deserted wastelands of Australia, chasing after the elusive Mad Max than it has on an F1 track.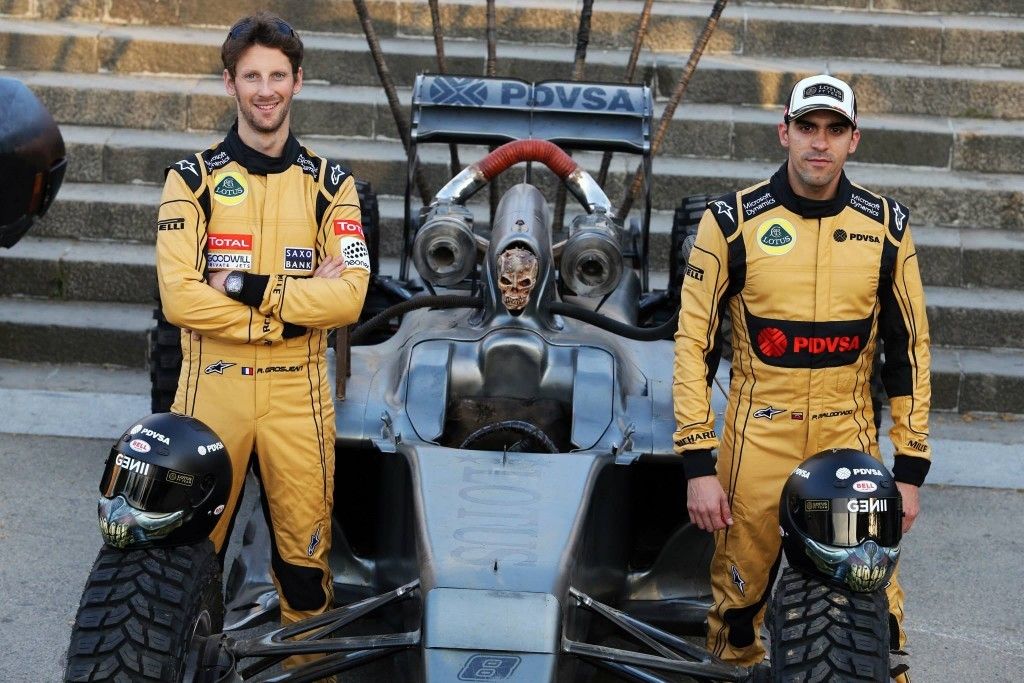 Lotus F1 team members Romain Grosjean and Pastor Maldonado with the awesome Mad Max hybrid machine
The rat-look Lotus Hybrid got a metallic makeover from a Roland DG SOLJET Pro 4 XR-640 using 3M film. It was transformed from a gleaming supercar to a truly monstrous machine, complete with post apocalyptic rust, painful-looking spikes, flame throwers, and the skulls of its victims, mounted to its wings.
When asked about Roland DG's role in creating this monster machine, Joe McNamara of Lotus F1 Team Graphics commented, "With a project like this, with such tight deadlines, and zero margin for error, our Roland DG printer was invaluable. We rely on the speed and reliability of the SOLJET Pro 4 XR-640 to ensure these products are realized in the time limits we have."
The Lotus F1 Team Mad Max Hybrid was unveiled at the Barcelona International Motor Show at the Montjuïc Exhibition Centre on May 8, along with two custom, drivable vehicles, designed and created for the film. Thanks to some impressive graphics and customization, it made a cool and fearsome impression.
See more pictures of this awesome creation here
Take a closer look at the SOLJET Pro 4 XR-640 and see what it can do for your sign and graphics business.