Roland DGA Introduces New Open Architecture In-Clinic CAD/CAM Solution
New Solution Includes DWX-4W Wet Mill, MillBox CAM and CliniCAD Software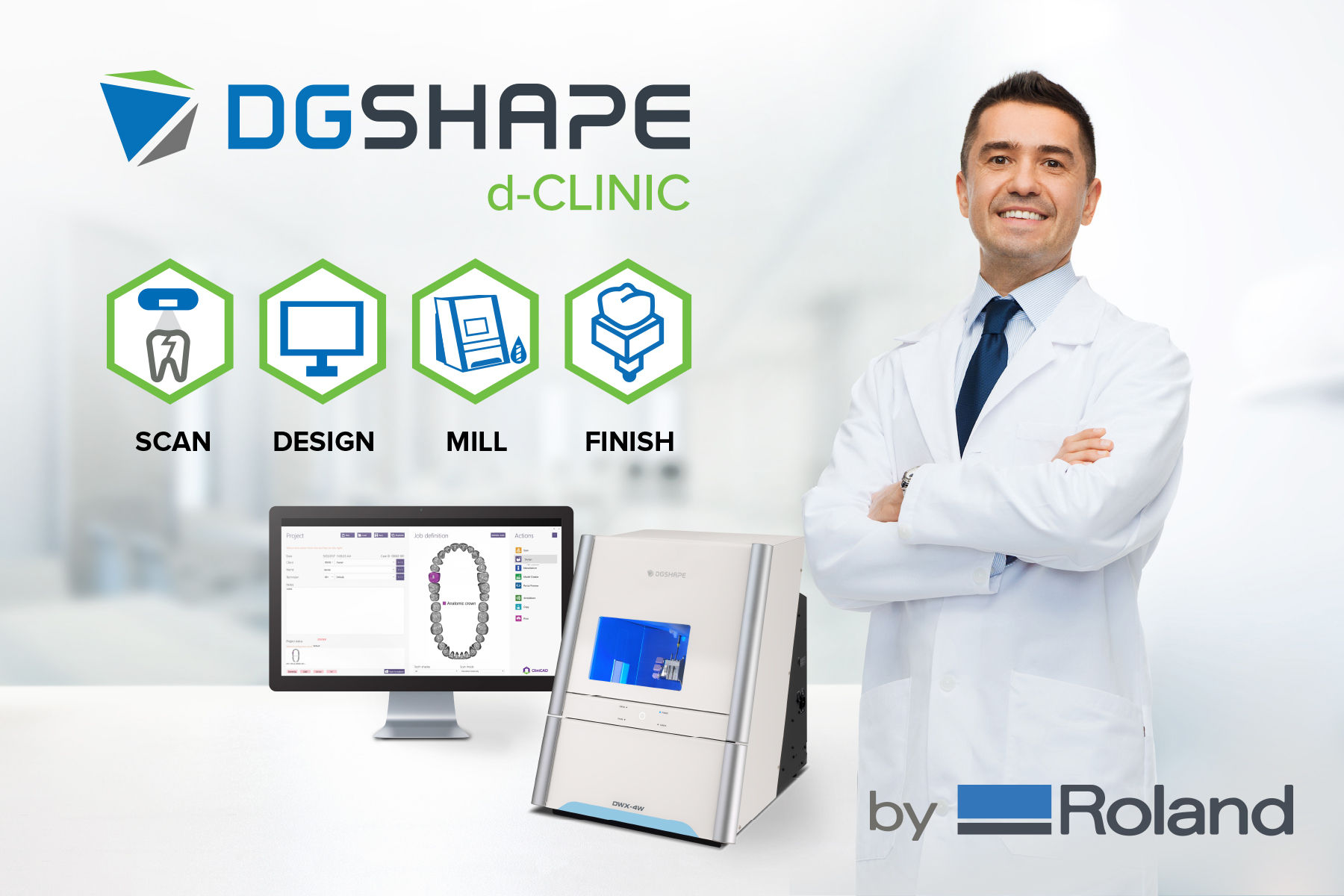 Irvine, Calif., Nov. 25, 2017 – Roland DGA has announced the launch of DGSHAPE d-CLINIC – a new open architecture CAD/CAM solution that makes it easy and affordable for dental clinics to produce precision glass ceramic and composite resin restorations in-house. Featuring DGSHAPE's DWX-4W wet dental mill, plus MillBox CAM and new CliniCAD design software, the new DGSHAPE d-Clinic solution is a turnkey package for producing same-day prosthetics, including high quality inlays/onlays, crowns, veneers, and more. The open architecture of the DWX-4W and CliniCAD design software allows users to work with today's most popular scanners and materials.

"The beauty of d-CLINIC is that it provides a platform that works with many open system scanners and popular CAD/CAM materials readily available to clinicians," said Dwight Blair, Roland DGA's dental product manager. "It enables dentists and clinicians who create these restorations in-house using their own equipment to maintain their own quality control. Dentists can choose their desired scanning device, while incorporating the hardware and software they need to create in-clinic single restorations easily, quickly and cost-effectively."

The DGSHAPE d-CLINIC solution combines the innovative features and capabilities of the DWX-4W with MillBox CAM and CliniCAD design software, taking all the complexity out of 3D design. In addition to offering the freedom and flexibility of open architecture, the DWX-4W enables clinics to mill up to three different pin-type materials at the same time for optimum efficiency, productivity and convenience. The 4-axis DWX-4W also boasts a high-performance Jaeger DentaDrive spindle that operates at speeds of up to 60,000 RPM, a 4-station Automatic Tool Changer that switches out used grinding burs as needed without interruption, and a host of additional advanced features.

Powered by Exocad, new CliniCAD software puts a wealth of useful tools and resources at the user's fingertips to make production-ready prosthetic design easier than ever. This powerful, feature-filled software lets you import directly from a scanner, access a library of pre-loaded material profiles materials, and design in either "Expert" or "Automatic Single Proposal" modes with an automated process. A software wizard guides the user through all the work steps, and even novices can generate dental restorations from highly accurate STL, OBJ and PLY files with minimal effort. CliniCAD software offers an optional DentalShare feature that allows you to send files to dental labs for design or milling when you're short on time or need to produce more complex restorations. DentalShare also makes it easy for colleagues to share files for review.

For more information on the new d-CLINIC open architecture in-clinic CAD/CAM solution, visit https://www.rolanddga.com/d-clinic. To learn more about the complete DGSHAPE by Roland product lineup, visit www.rolanddga.com/dental.

About Roland DGA

Roland DGA Corporation serves North and South America as the marketing, sales and distribution arm for Roland DG Corporation. Founded in 1981 and listed on the Tokyo Stock Exchange, Roland DG of Hamamatsu, Japan is a worldwide leader in wide-format inkjet printers for the sign, apparel, textile, personalization and vehicle graphics markets; engravers for awards, giftware and ADA signage; photo impact printers for direct part marking; and 3D printers and CNC milling machines for the dental CAD/CAM, rapid prototyping, part manufacturing and medical industries.