Roland DGA to Showcase its Latest UV and Direct-to-Garment Printing Technologies in Adobe MAX 2020 Online Conference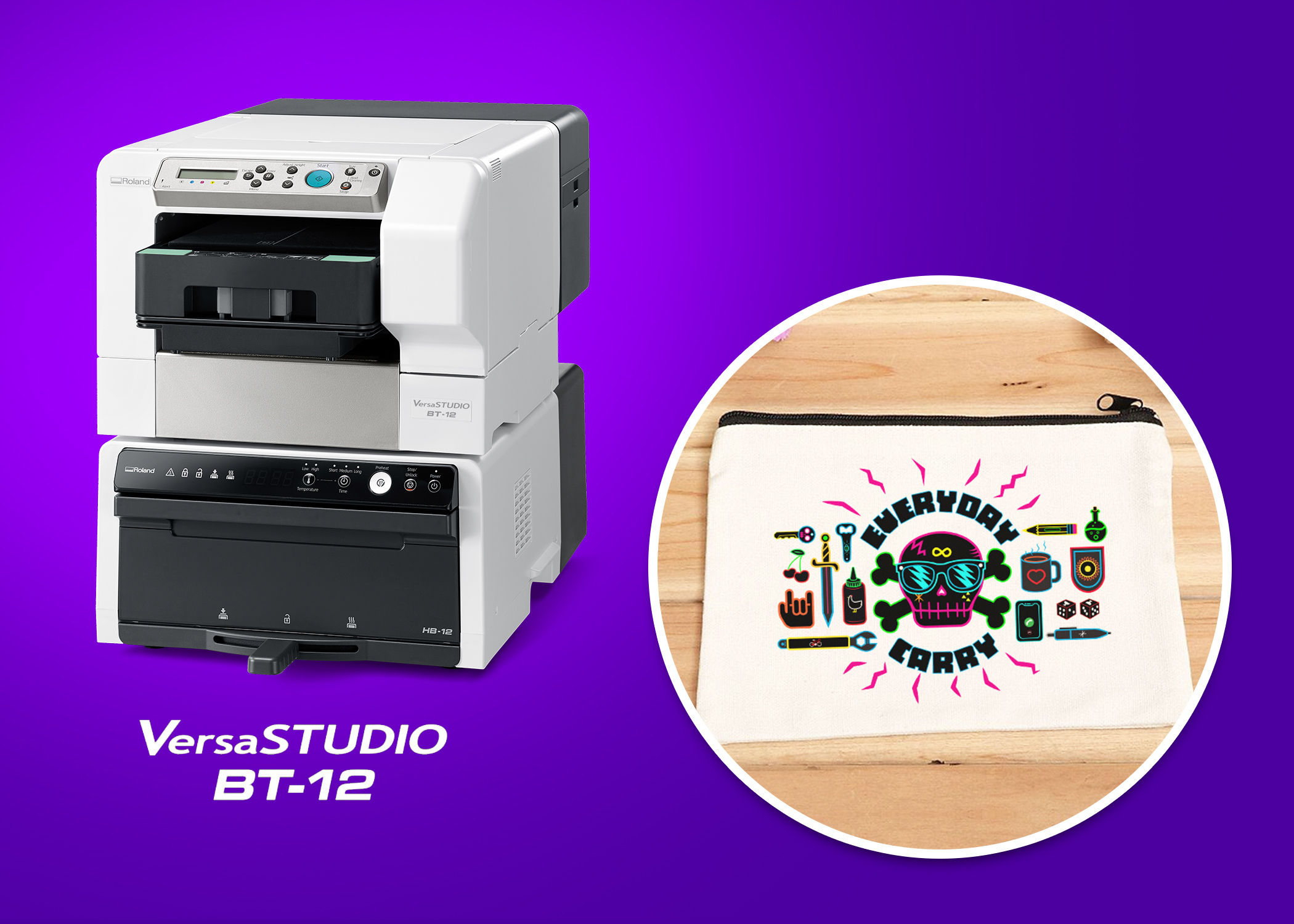 Irvine, Calif., September 30, 2020 – Wide-format digital imaging leader Roland DGA Corporation, a Gold Sponsor of the Adobe® MAX 2020 Creativity Conference taking place October 20-22, will showcase its latest UV printing and direct-to-garment printing technologies at this free-to-attend, high-profile online event.

Roland DGA will be supplying digital design templates and VersaUV® printers for use in an Adobe MAX 2020 pre-conference workshop – "MAX-I-MUM WARP" – to be led by Adobe Senior Creative Director, Russell Brown. In addition, Roland DGA will be providing an informative video tutorial on the new VersaSTUDIO BT-12 direct-to-garment printer – an affordable desktop device that makes printing full-color designs directly to apparel and accessories easier than ever.

Pre-conference workshop attendees will have their own graphic designs printed onto customized plastic face shields with the Roland DG VersaUV LEF2 series UV flatbed printer. Uniquely engineered for product customization and personalization, LEF2 flatbeds are compact UV-LED printers that print directly on a vast array of substrates and three-dimensional objects with ease and precision.

Those attending the Adobe MAX 2020 online conference can view Roland DGA's video tutorial on the VersaSTUDIO BT-12, hosted by Roland DGA end user Laura Sims, who uses her BT-12 to create decorated apparel she sells through her online retail business, Wendy and Wander (www.wendyandwander.com).

Roland DGA will also be providing product prizes for several contests and giveaways planned for Adobe MAX 2020. The company will supply 200 zipper pouches custom-printed with a BT-12 for the "MAX Giveaway," as well as a big prize for one lucky winner of the "MAX Game" – a new BT-12 direct-to-garment printer package, valued at over $5,000.

"We are thrilled to serve, once again, as an Adobe MAX sponsor and partner," said Roland DGA President and CEO Andrew Oransky. "While this year's conference will be a virtual experience due to the current circumstances, we have no doubt that it will be a landmark event. The combination of world-class speakers, unique workshops, and innovative technologies continue to make Adobe MAX one of the world's premier creativity conferences. We are proud to supply cutting-edge devices that contribute to its overall success."

To learn more about Adobe MAX 2020, or to register online, visit https://max.adobe.com. For more information on Roland DGA Corporation or the complete Roland DGA product line, visit https://www.rolanddga.com.

About Roland DGA Corporation

Roland DGA Corporation serves North and South America as the marketing, sales, distribution, and service arm for Roland DG Corporation. Founded in 1981 and listed on the Tokyo Stock Exchange, Roland DG of Hamamatsu, Japan is a worldwide leader in wide-format inkjet printers for the sign, apparel, textile, personalization and vehicle graphics markets; engravers for awards, giftware and ADA signage; photo impact printers for direct part marking; and 3D printers and CNC milling machines for the dental CAD/CAM, rapid prototyping, part manufacturing and medical industries.

About Adobe MAX

Adobe MAX is an immersive, engaging digital experience that brings together the world's most creative minds, industry luminaries, celebrities and musicians. MAX 2020 keynote speakers and presenters include Academy Award-winning filmmaker Ava DuVernay, director Taika Waititi, leading actors Keanu Reeves and Gwyneth Paltrow, renowned photographer Annie Leibovitz, and recording artist Tyler, the Creator. Attendees will find inspiration in the 350 live and on-demand sessions spanning 56 hours of free content across 10 tracks, which will include the much-loved Max Sneaks, a preview of technology innovation brewing in Adobe Research. Attendees will be able to connect with speakers and Adobe product experts in live chats, and a collaborative art project will build community with participants from around the world.