Roland DGA to Have Major Presence at LMT LAB DAY Chicago 2020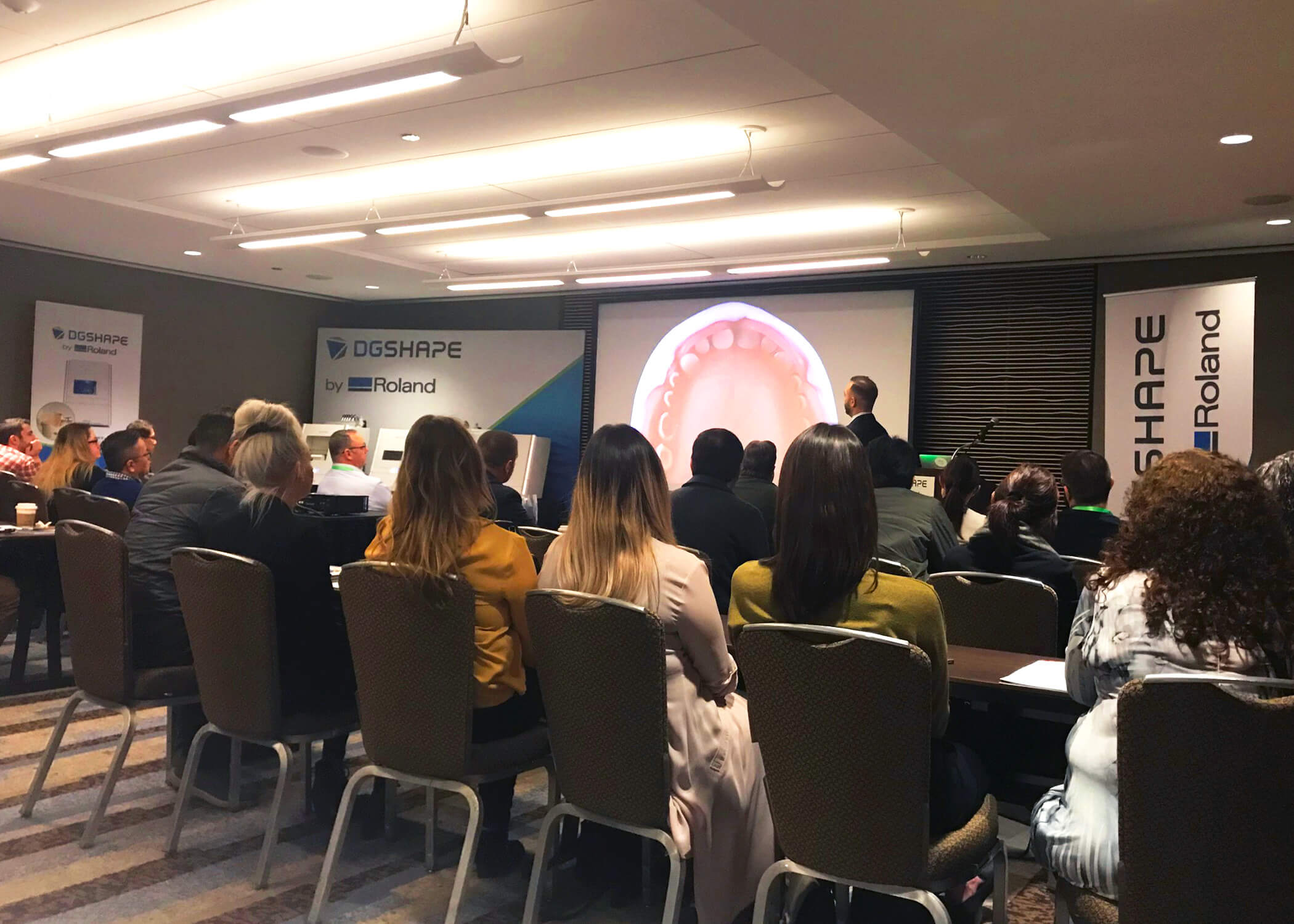 Leading Provider of Digital Dental Mills to Showcase its Latest Technologies, Conduct Free Continuing Education Clinics, and Offer "Tech Lab" Meetings with Product Experts
Irvine, California, Jan. 28, 2020 – In addition to showcasing its advanced DGSHAPE digital dental devices, Roland DGA will be offering LMT LAB DAY attendees a wealth of educational opportunities. Show-goers can visit Roland DGA's "DGSHAPE" branded booth to get a firsthand look at the company's newest DWX series mills, gain information and CE credits by attending free Continuing Education Clinics, and book a "Tech Lab" meeting with a product expert to discuss getting the most out of their DGSHAPE equipment.
Roland DGA will be demonstrating the state-of-the-art DWX-52DCi, DWX-52D and DWX-42W throughout the show, allowing booth visitors to see these next-generation DGSHAPE milling machines in action. The industry leader will also be hosting a total of eight free-to-attend CE clinics – three on Thurs., Feb. 20 and five on Fri., Feb. 21 – covering a variety of subjects relevant to the needs of modern dental labs. Attendees can learn how to optimize milling efficiency and quality, get on board with digital denture design, select tools that ensure profitability, repeatable and success, perform aesthetic full-arch zirconia restorations, and much more.
DWX mill owners attending LMT LAB DAY Chicago 2020 can also take advantage of Roland DGA's "Tech Lab" on Sat., Feb. 22, which offers the opportunity to meet one-on-one with a DGSHAPE product expert. By setting up a 30-minute appointment, customers can obtain valuable advice related to their devices, workflows, software, technical support, and other related topics.
"We are looking forward to familiarizing those at LMT LAB DAY Chicago with the impressive capabilities of our latest DGSHAPE dental devices," said Roland DGA's Dental Solutions Product Manager, Lisa Aguirre. "We're equally excited about providing lab owners with practical information and new ideas they can apply immediately in their respective operations to improve performance, productivity and profitability."
To learn more about Roland DGA's free Continuing Education Clinics at LMT LAB DAY Chicago, or to book a Tech Lab appointment at the show with a DGSHAPE product expert, visit https://www.rolanddga.com/sites/labday. For more information on the complete line of DGSHAPE dental products, visit https://www.rolanddga.com/products/dental/dwx-series.
About Roland DGA Corporation
Roland DGA Corporation serves North and South America as the marketing, sales, distribution and service arm for Roland DG Corporation. Founded in 1981 and listed on the Tokyo Stock Exchange, Roland DG of Hamamatsu, Japan is a worldwide leader in wide-format inkjet printers for the sign, apparel, textile, personalization and vehicle graphics markets; engravers for awards, giftware and ADA signage; photo impact printers for direct part marking; and CNC milling machines for the dental CAD/CAM, rapid prototyping, part manufacturing and medical industries. For more information, visit https://www.rolanddga.com.
About DGSHAPE Corporation
DGSHAPE Corporation designs and manufactures hardware and software solutions for entrepreneurs who want to fulfill their dreams of creating something new to Shape the Future. We cater to multiple industries including: medical, manufacturing, and retail. We help innovators unlock their dreams by removing barriers to creation: through intuitive technology that simplifies the user experience: interface, software, and maintenance, multi-axis rotary milling technologies, and Internet of Things (IoT) analytical platforms. Everything we do is motivated by creating tools for the next great history-maker to Shape Ideas, make innovation, and make life better. To learn more about DGSHAPE Corporation, please visit www.dgshape.com .