"People like to touch," says Mike Richford of Design Air Graphics. "In my line of work, people can't just look at things. It's human nature. They say wow and put their hands all over it. Durability is critical." An artist by nature and a product of the digital age, Richford uses digital print/cut technology to produce durable powerboat and marine graphics. "When I'm done, people don't know if my graphics are airbrushed art or printed vinyl," says Richford. "They look that good!"
Once his graphics are printed and cut, he adds an extra level of protection against abrasion, moisture and UV light with liquid clearcoating or overlaminate films.
Dry time, cure time
"Dry time" and "cure time" are not the same measure. The first is the time it takes for inks to feel dry to the touch—for which most inkjet media, when properly profiled, happens in minutes. Cure time, on the other hand, is the time it takes for the ink to outgas, and is dependent on the media being used and environmental conditions. Mike generally lets the ink sit for a few hours before clearcoating his graphics to ensure proper curing of the ink and to prevent any runs or smears.
Working with Liquid Clearcoating
For the majority of his graphics, Mike Richford uses a liquid clearcoat. Once his graphics are properly cured, he applies the clearcoat BEFORE weeding the graphic.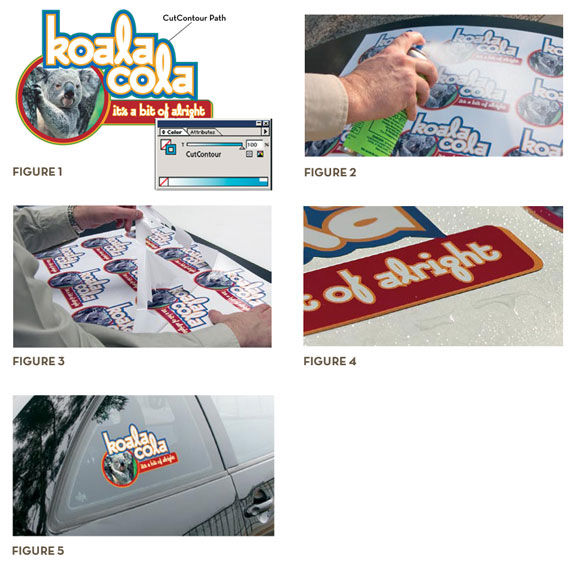 For basic protection, follow the Print/Cut/Clearcoat workflow:
Setup your artwork with print data and cut paths. (Fig. 1)
Send the artwork to the print/cut device for printing and cutting in a single, unattended step.
Remove the graphic and spray it with a UV clearcoat. It is best to apply two light coats rather than a single heavy coat. This avoids runs and tackiness. (Fig. 2)
Weed unwanted vinyl from the graphic while it's still wet. (Fig. 3) Allowing clearcoat to dry can make the cut edges meld together if the spray has been applied too heavily.
If the graphic is weeded prior to coating, the clearcoat can create an undesirable raindrop effect on the liner, which can be messy when trying to apply transfer tape. (Fig. 4)
If time permits, allow the coated graphic to dry overnight. Apply transfer tape and install. (Fig. 5)
For mild-solvent inks, be sure to select a solvent-based liquid laminate designed for inkjet prints. There are several popular brands available. Aerosol cans are convenient for smaller graphics. Quart sizes of the same products allow you to spray larger graphics with a detail gun.
"I use an automotive clear," Richford says. "It's a catalyzed urethane, so it's incredibly tough. The graphic will actually pull apart before you can scratch the print off."
For water-based pigment inks with coated media, choose a water-based liquid laminate designed for inkjet prints. It is important to note that solvent-based laminates can crack and yellow when used with water-based inks and coated media.
Working with Overlaminate Films
Overlaminate films are often necessary on graphics requiring outdoor durability of greater than a year, or for applications that must withstand harsh environments, like vehicle and floor graphics. The films provide a variety of finishes and allow for easier cleaning of the graphic.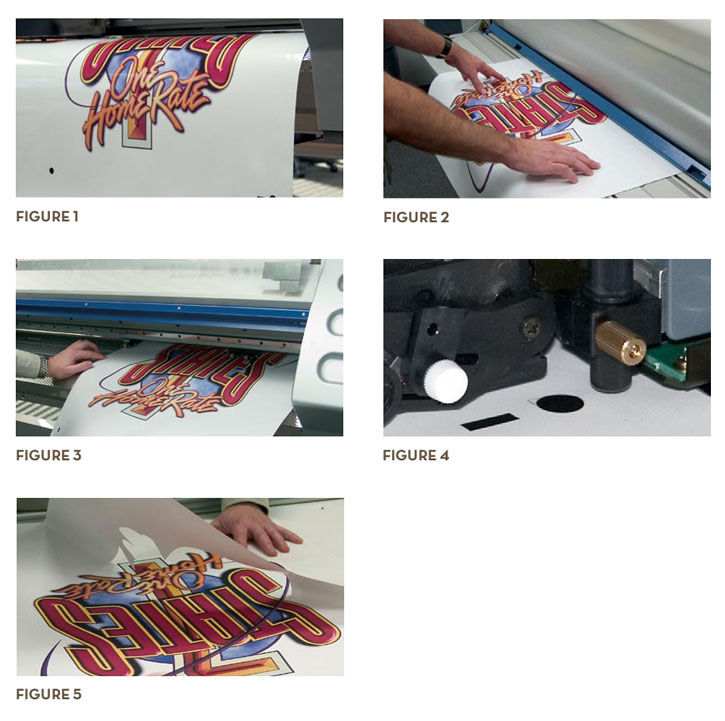 An integrated printer/cutter will more easily achieve proper registration and turn out cut lines with more precision than a two-device solution.
Setup your artwork with print data and cut paths.
Send the artwork to the print/cut device for PRINTING ONLY with Quadralign registration marks added. (Fig. 1)
Remove the printed graphic from the printer/cutter.
Apply a laminate film. (Fig. 2)
Reload the laminated print into the printer/cutter. (Fig. 3) Align the optical registration marks with Quadralign. (Fig. 4)
Send CUT ONLY information to contour cut the graphics. The optical registration system automatically realigns the cutting path and compensates for skew and distortion.
Weed excess vinyl from the graphic. (Fig. 5)
Apply transfer tape and install.
There are many different types of overlaminate films, but they generally fall into two categories: pressure-sensitive adhesive (cold) or thermal adhesive (hot). For print/cut applications using adhesive-backed vinyl, pressure-sensitive films are always recommended. Thermal films will stretch and potentially harm the printed vinyl graphic.
Vinyl (PVC) generally has more flexibility than other types of laminate films such as polyester or polypropylene. Cast vinyl is the best type as it is relatively thin and maintains its shape over time. This thin gage is necessary for conforming to the complex curves, rivets and indentations that you would find on vehicle graphics.
Edge Sealing
Edge sealing helps protect graphics against moisture, dirt, oils and edge lift. The type of edge seal used will vary depending on the technology used for the graphic and its ultimate use. Edge sealing is required for water-based prints on coated media, but is optional with solvent prints on uncoated media.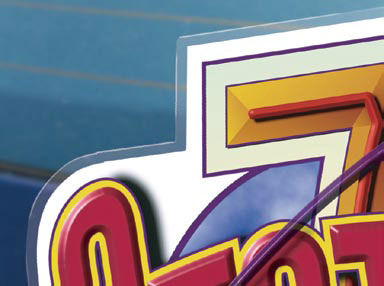 Figure 6
Types of edge seal include:
An overlapping edge of overlaminate film to seal the graphic. (Fig. 6) Use the Print/Cut/Laminate/Cut workflow described in the Basic Workflows article.
Edge seal tape
Edge seal liquid (not for water-based inks and coated media)
This article has been excerpted from Roland DG's popular instructional booklet, Taking the Mystery Out of Print/Cut. The ultimate guide to print/cut technology, this valuable, information-packed resource has already helped thousands of Roland DG customers streamline their production environments and grow their businesses. Watch Taking the Mystery Out of Print/Cut Video.