Metallic Silver ECO-SOL MAX Ink from Roland DG is now available, making it easier and more affordable than ever for you to print true metallics and create pearlescent process colors for dramatic effect and high profit margins. Implementing this technology will allow your business to add metallic graphics to signs, banners, vehicle graphics and wraps, labels, decals, point of purchase displays and custom apparel, premium products that command premium prices in the marketplace.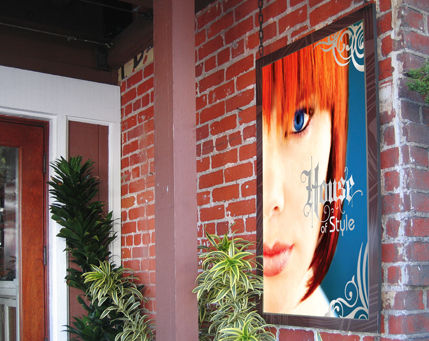 Incorporating metallic ink into your signs, banners, vehicle graphics and wraps, labels, decals, point of purchase displays and custom apparel helps create a dramatic effect and high profit margins.
To support the new ink, Roland DG offers two metallic inkjet printer/cutters enhanced with both white and metallic silver inks, the 54" SOLJET PRO III XC-540MT and the 64" VersaCAMM VS-640. Both offer production-level print speeds, Roland DG Intelligent Pass Control for high image quality and Roland DG's integrated print/cut technology which combines printing and contour cutting in one device for a seamless production workflow. Roland DG metallic inkjet printer/cutters come with Roland DG VersaWorks RIP software and support coated and uncoated media.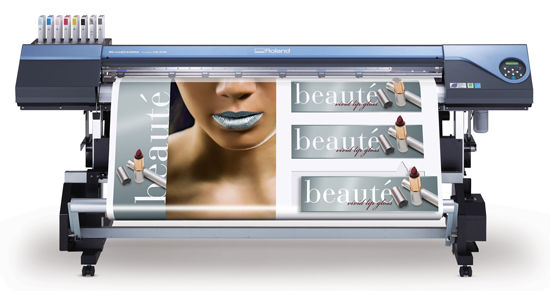 At 64" wide, the VS-640 is Roland DG's largest, fastest and most versatile VersaCAMM printer/cutter to date, designed to produce signs, banners, vehicle graphics and wraps, fine art posters, packaging prototypes, labels, decals, POP displays, heat transfers for apparel and more.
Metallic silver ink has been fully optimized by these inkjets without dramatically changing the way they operate. In fact, their features and capabilities are very similar to those of other Roland DG inkjets. As a result, the learning curve associated with the new technology is easy. The metallic pigment in Roland DG's Metallic Silver ECO-SOL MAX ink performs the same way white ink performs and can be treated the same way during the design process. By adding silver as an accent or spot color in current designs, normal applications can be transformed with pearlescent colors using the same RIP and media already in your shop.
Silver can be printed as a spot color or combined with CMYK to create thousands of metallic colors. You can also create your own custom overlays or choose from Roland DG's spot color library of 512 metallic shades. Metallic Silver ECO-SOL MAX Ink (ESL3-MT) is available in 220 ml cartridge for $229.99. The cost per ml for metallic silver is $1.05, and the average ink cost for a full silver flood as a spot color comes to about $1.97 per square foot on vinyl and about $1.80 on clear film. Less silver ink is required when combining metallic silver and CMYK for a lower cost per square foot. White ink can be printed as an underlay for metallic colors to increase their opacity on clear substrates. Because this is a brand new technology and a brand new market, the industry hasn't set a retail price standard. This is where your creativity can create a brand new pricing model to help you build new revenues.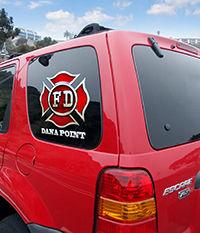 Top 10 Applications for Silver Ink
Point of Purchase & Retail Displays
Indoor Banners
Panel Displays
Vehicle Wraps
Directional Signs
Promotional Products
Awards & Incentives
Garment Decoration
Personalized Gifts
Fine Art Reproduction
If you have a wide-format inkjet printer in your shop, you are probably already producing many of these products. Adding metallic colors and accents will only increase their retail value, resulting in better profit margins. At the same time, your customers will appreciate the sophistication metallic colors add to their brand image. For more information on Roland DG metallic inkjet printer/cutters and the rest of the Roland DG inkjet line, visit www.rolanddga.com.