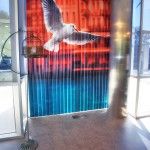 Yup, these were made on a Roland DGA device.
As you have probably noticed from some other posts, we have been spending a lot of time at trade shows lately. They are always exciting for me because I get to see all kinds of new technology in one place, but also because I get to meet a lot of Roland DG users all at once, and hear about their work. While I'd like to believe that simply owning a Roland DG is a competitive advantage, almost everyone I talk to has some additional way to differentiate their business. One user bragged that he could turn around 8″ x 10″ canvas prints, stretched and ready to hang, within 24 hours of an online order. That means event photographs get delivered while the event is still fresh in people's minds. Some owners have found that focusing on and perfecting one application, like wall coverings or window treatments has made them stand out.
I've talked to other Roland DG owners who pride themselves on their design skills, and others, like Digital EFX, whose installation skills have been drawing crowds for years. There are lots of ways to create a difference between you and your competitors, but it is crucial to understand what the differences are, because they answer the fundamental question "Why should I buy from you?"
If you have a unique value to your customers, I'd like to hear what it is. If you aren't sure, now is a good time to incorporate it into your 2011 plan. Maybe there are more products you can offer, or a different service guarantee than your competitors. Let me know how it works out.