Votes have been counted, and samples have been securely packed. While the Roland DG Creative Awards have been closed to entries for months now, final judging hasn't taken place yet. In the next few days, regional winners from around the world will be headed to our headquarters in Japan for a tour, celebration, and awarding of the grand prizes, which include Roland DG hardware.
We had about 1100 great entries to the contest, and examples of incredibly creative work from Roland DG users garnered a lot of interest and helped spark conversations at the recent ISA Show in Orlando, FL. We're still collecting samples to display in our Creative Center here in Irvine, CA, and at shows and events around the world. If you want your work included in our Creative Center, we're always looking for more exhibits. Just drop me a note and let me know what you have. We'll make the arrangements.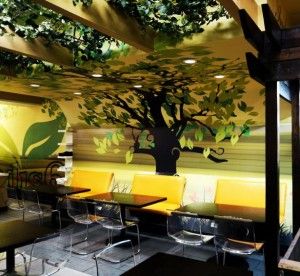 Saladish Restaurant by Gamut Media is the North American regional winner.
If you want to follow along with the events in Japan, or just want to know who wins, keep an eye on our Facebook pages (Roland DGA and Roland DG Restyling) or our Twitter feed.
There's more great news though. Just as we wrap up the Creative Awards, we are sponsoring a new contest launched by our friends at T-Shirt Forums. Find all the details here. This one is a great opportunity to get your hands on a Roland DG VersaStudio BN-20 and a host of other prizes. The total retail value of the first prize is over $10,000. Over the past few years, we've found that apparel decoration has been an increasingly popular application for Roland DG users, and we're excited to get more involved with this dynamic community.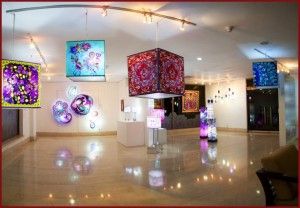 Alma Mia Art Installation by BACA-DG, the Latin America Regional Winner